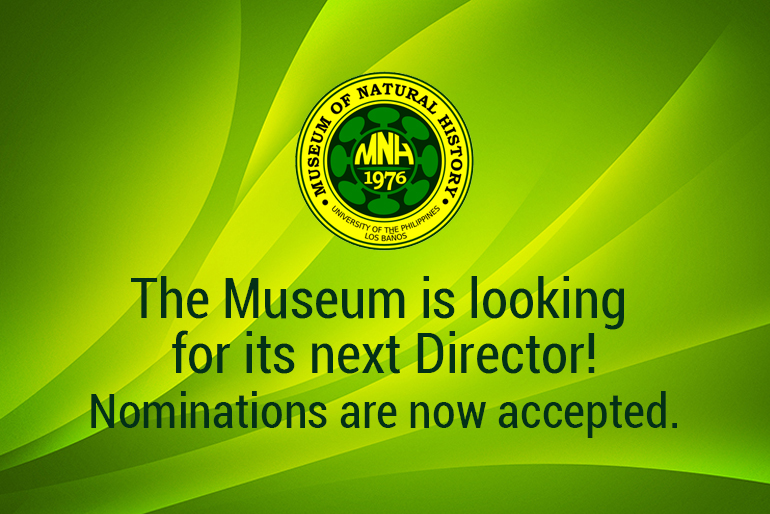 The search for the new Director of the UPLB Museum of Natural History is now ongoing! The Search Committee is now inviting stakeholders to nominate potential candidates for the position.
Who may nominate?
Personnel of the unit
Curators, students and other stakeholders of the unit
Alumni of the unit
Who may be nominated?
The nominee must possess the following minimum qualifications:
Outstanding academic credentials
Five (5) years of satisfactory service to the University, or equivalent experience
Commitment to the University and to the unit
Unquestionable moral integrity
Leadership qualities, and administrative or managerial capability
Professional maturity
When is the nomination period?
Nominations will be accepted from January 15 to 22, 2021
What are the nomination documents needed?
Nomination letter
Three-page summary of curriculum vitae of nominee
Vision and plans for MNH of nominee
The hard copy of the nomination documents shall be submitted to OVCRE Annex Building until January 21, 2021, 5:00 PM. The e-copy of the nomination papers shall be emailed to [email protected]
What is the schedule of the whole search process?
Please be guided by the schedule of activities below:
| | |
| --- | --- |
| 1. Meeting of Search Committee to schedule meetings, consultations and other activities | January 15, 2021 (Friday)1:00 PMOVCRE Annex/Zoom |
| 2. End of Term Report (2015-2021) of the MNH Director | January 19, 2021 (Tuesday)3:00 PM Via Zoom |
| 3. Submission of nominations to the Search Committee Members | January 15-21, 20215:00 PMOVCRE Annex |
| 4. Presentation by the nominees of their visions, plans, programs and priorities for MNH | January 22, 2021 (Friday)2:00 PMVia Zoom |
| 5. Interview with the selected MNH constituents, (Curators, REPS, administrative staff and other stakeholders) by the Search Committee | January 26-27, 2021(Tuesday & Wednesday)1:00 – 5:00 PMOVCRE Annex/Zoom |
| 6. Interview with the nominees by the Search Committee | January 29, 2021 (Friday) 2:00 PMOVCRE Annex/Zoom |
| 7. Consolidation of information by the Search Committee | February 1-10, 2021 |
| 8. Preparation of the report by the Search Committee | February 11-14, 2021 |
| 9. Submission of report to the Chancellor | February 15, 2021 (Monday) |
Who can be contacted for further questions?
You may get in touch with the following members of the Search Committee or email the recording Secretary, Ms. Ruth M. Almario at [email protected]
Members of the Search Committee
Dr. Merdelyn C. Lit, OVCRE, Chair
Dr. Edwino S. Fernando, CFNR, Member
Prof. Jerry R. Yapo, DHum, CAS, Member
Dr. Mary Grace B. Dacuma, IBS-CAS, Member
Ms. Visitacion C. Huelgas, IPB-CAFS, Member
Mr. Noel H. Tan Gana, BIOTECH, Member
Ms. Ruth M. Almario, OVCRE, Secretary