The accurate identification of collected specimens is of utmost importance in research, as well as in policy. Please be informed that the term "authentication" should never be used. The proper term is "specimen identification."
Researchers, teachers, extension workers, and the general public may avail of the Museum's biological identification service so they can be provided with the most basic information on natural history of a specimen.
Reasonable fees are charged at rates sufficient to cover the amount of time, material, and expertise invested to meet the service request.
Our schedule of fees can be downloaded here: https://bit.ly/MNH-new-rates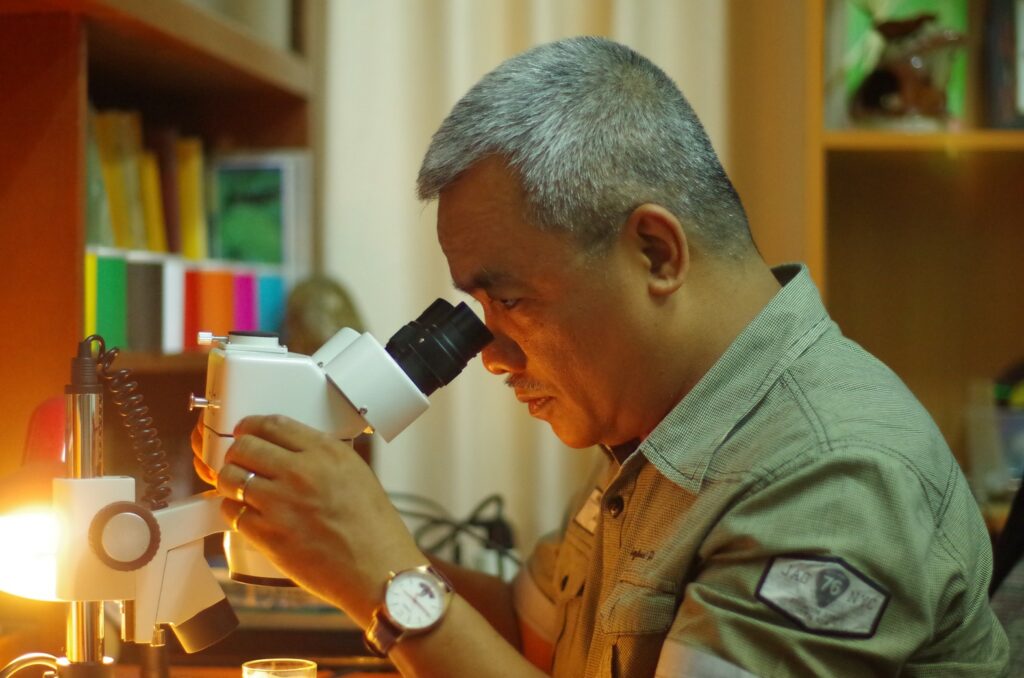 Our general guidelines are the following:
Requests are normally accepted only if the biological groups involved are within the expertise of museum staff.
We only accept preserved specimens which must reach the museum staff and curators in identifiable condition, be adequate in sample size, and bear the necessary collection data (i.e., locality, host or habitat, parasites or predators, damage to host, date of collection, collector, etc.).
The museum staff and curator in charge of the identification shall determine the study period necessary for each batch of accepted specimens, considering the level of identification and number of specimens. The minimum period is at least 15 government working days.
The MNH can request the duplicates or portions of specimens for deposition in the MNH collections, the rest are returned at the expense of the requesting party, unless the staff is instructed otherwise.
Service charges vary with the Sections of the museum but in general are based on the level of identification (species or genus level). The requesting party is given a preliminary estimate if the charge for each batch of specimens accepted; he might be required to advance a portion of the total for operating expenses.
The museum staff and curator releases the report of identification upon receipt of the total service charge. Payment are currently received through bank transfer, and paid to UPLB Foundation, Inc.
The Museum assumes no responsibility for determination done by the requesting party by comparison with the returned identified material.
The Museum, in pursuance of its functions, may request from the collector the material obtained through identification services.
Finally, the museum also reserves the right to reject any request. Grounds for rejection are:

Specimens belong to groups not within the expertise of the museum staff;
No permits (e.g. Gratuitous Permit, Local Transport Permit, etc.) provided;
Request involves routine sorting into divisions, classes, orders, and families;
Specimens are inadequate in size, poorly prepared, or mutilated;
Request is for purposes of paid consultancy and related activities; and
Identification is used in professional ecological studies dealing with species diversity and succession.
Our specific guidelines on how to prepare specimens for submission to the museum's biological identification services are below:
NEW PROTOCOL FOR THE SERVICE
DUE TO THE COVID-19 Health Situation
Protocol A. Clients residing within Laguna
Strictly prepare the specimens(s) to be identified using the following guidelines above.
Submit a request online at https://forms.gle/a5mhcuc6nrd4Ddjm6 (A Google email account is required).
Once your request has been assessed and approved, follow the protocol to arrange a visit to the MNH to avail of biological specimen identification service.
Package your specimens

For wet preserved specimens in alcohol, use only containers with tightly secured lids or cover (leak proof and airtight containers are preferred) such as vials and jars. Enclose them individually in a resealable plastic bag with an absorbent material such as cotton or tissue in case of fluid leakage. All bags then shall be properly packed in a sturdy container to avoid damage or breakage of vials/jars.
Dry preserved specimens such as skins, pinned insects and herbarium sheets, etc. must be wrapped in individual paper bundles and stacked properly inside a box. It is also advisable to place the samples in plastic bags to prevent them from getting wet in case of exposure to liquid. Samples should be properly stored in boxes or plastic containers with enough filling material (e.g. crumpled newspaper, small pieces of styrofoam, etc.) to ensure that the specimens do not move inside the container during shipping and handling.
In case you have both wet and dry preserved specimens to be shipped, prepare them in separate packages. All containers shall be protected in bubble wrap then packed in a crush-proof, corrugated box with fillers such as cardboard or foam inside.

Put "Fragile", "This Side Up", "Specimens for Identification" and other relevant labels.
When going to the campus, bring any certification, identification cards, vaccination cards, and other documents required by the university or the pertinent government/private agencies in relation to their current COVID-19 protocols.
Submit your specimen(s) for identification at the Director's Office of the UPLB Museum of Natural History.
Proceed to Protocol B Item #5.
Protocol B. Clients residing outside Laguna
Strictly prepare the specimens(s) to be identified using the following guidelines indicated above
Submit a request online at https://forms.gle/5dKxV1UeuoVf7UTKA (A Google email account is required).
Once your request has been assessed and approved, you can pack your specimens using Protocol Item # A4.
Send your specimens via any available major courier service to this address:
Dr. Marian P. De Leon
Director
UPLB Museum of Natural History
CFNR Quadrangle, UP Los Baños, College, Laguna 4031
Once the specimen(s) package is received at the Director's Office, our staff will assign it to the appropriate section:
The staff listed above will be communicating with you should there be questions, concerns, clarifications or additional instructions.
Due to the ongoing health crisis, there will be several restrictions to working hours, manpower available and access to facilities. Pre-quarantine, specimen identification takes at least 7 government working days and depending on the taxa and number of specimens. Under the quarantine period and its variants, specimen identification would take at least 14 government working days after receipt of specimens.
Upon the identification of the specimen(s) and finalization of the MNH Form 4. Report of Identification, the staff-in-charge will assess the amount to be paid and you will receive a letter of billing through email.
Pay the amount requested via bank over-the-counter deposit, online fund transfer, or payment facilities such as GCash and PayMaya using these details:
Land Bank of the Philippines UP Los Baños Branch
Account Name: UPLB Foundation, Inc.
Account Number: Peso Account # 1892-1003-29
Address: Victoria M. Ela Avenue, UP Los Baños, College, Laguna 4031
Email a copy of any available proof of transaction (verified deposit slip, transaction notification, email notification, etc.) to our designated Special Collecting Officer at

[email protected]

Upon receipt of this proof of transaction, the SCO will request for an Official Receipt from the UPLB Foundation, Inc. on your behalf.
Finally, the SCO shall email you the electronic copy of the MNH Form 4. Report of Identification and Official Receipt through email after receipt of your proof of transaction. Current working days at UPLB is Mondays through Fridays, 8AM to 5PM.