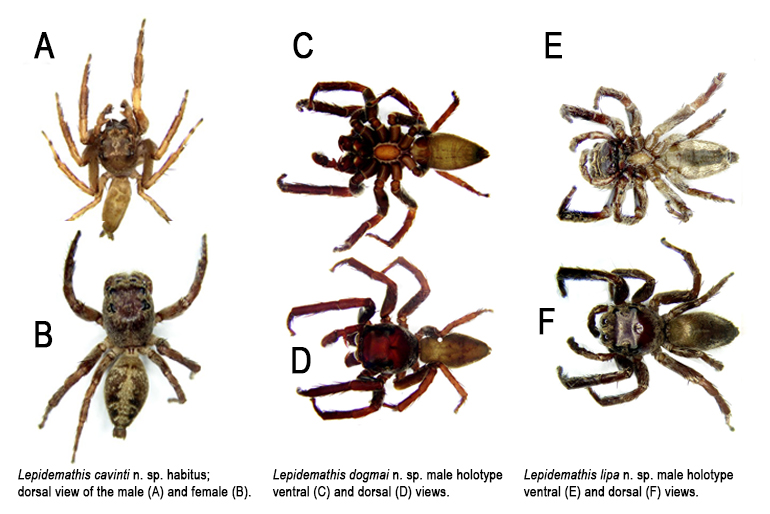 We sat down with Dr. Aimee Lynn B. Dupo, an entomologist and first asked how spiders jump for joy. "Well, for one, spiders do not just go hopping around just for the fun of it," she smiled.
"Jumping spiders of the spider family Salticidae use their jumping ability to pounce on their prey, usually smaller insects," Dupo added. Unlike grasshoppers, Salticidae do not possess special leg muscles for leaping.
"Imagine them curling up a bit, powering up and coursing their blood into their legs, increasing the pressure and then releasing it," she explained. "If I had that power and I was happy, me jumping for joy would be an interesting thing to watch!"
And to this we asked if she was that happy since the Barrion father-daughter taxonomy tandem was able to recently describe three new jumping spiders.
"Of course, to be able to contribute to the body of knowledge, to science, is always a good feeling, especially that spiders and other insects are badly under-represented in conservation efforts, compared to flagship species such as birds and mammals," Dupo shared.
Dr. Aimee Lynn A. Barrion-Dupo is a Professor at UPLB's Institute of Biological Sciences and is the Museum's curator for spiders and moths. Meanwhile, Dr. Alberto T. Barrion is currently teaching and researching at De La Salle University and is the Museum's curator for spiders, parasitic hymenoptera and rice arthropods in an adjunct capacity.
Although salticid spiders have these adorable looks (specially in a lot of social media macro-photographs) that make them jump out from the crowd, very few people understand the ecological basis and implications.
"Jumping spiders have these large eyes in the middle of their heads which are capable of telescopic vision," Dr. Dupo explained.
Salticids have excellent vision, with among the highest acuities in invertebrates. They have eight eyes — two big ones in the middle, a pair of another big one to the side, two medium-sized ones toward the back, and two very small eyes in front. Extremely accurate and sensitive vision is one remarkable asset of jumping spiders that interest a lot of researchers and it has been established that their vision enables their accuracy of leaps and pounces for hunting.
"So coupled with their surprising jumps, their super vision feature makes them very good predators and important to ecosystem balance," Dupo added.
Three jumping, new spiders
In an article recently published by the Philippine Journal of Systematic Biology, the Barrion duo — Dr. Aimee Lynn Barrion-Dupo and her father Dr. Alberto T. Barrion — described three spiders as new to science.
Two of those spiders were collected during one of the Museum's annual expeditions. In 2014, the father-daughter duo participated in the UPLB Museum of Natural History's 10-day survey/expedition in the Cavinti Underground River and Cave Complex (CURCC) in the innermost barangay of Cavinti, Laguna which overlaps with Mauban, Quezon. The third spider described was collected from bamboo trees near a young cacao orchard in Lipa City, Batangas.
"From the very numerous collections we had, we found some interesting Lepidemathis, jumping spiders that have many toothlike processes or appendages, which possess characters that are quite unique," Dr. Dupo recalled.
After careful examinations and years of comparison,with the other species of Lepidemathis, the scientists were able to finally describe the unknown specimens. The new species announced in the journal are Lepidemathis cavinti n. sp., Lepidemathis dogmai n. sp., and Lepidemathis lipa n. sp.
L. cavinti is named after its type locality, the primary forest of Cavinti, Laguna while L. lipa is named after Lipa City. On the other hand, L. dogmai was collected from a boulder in a dry river in Mauban, Quezon adjoining the CURCC area.
L. dogmai is named after Dr. Irineo J. Dogma, Jr., botany, plant pathologist and mycologist par excellence and former UPLB faculty and Director of the UPLB Museum of Natural History.
Lepidemathis is one of the 41 genera of salticid spiders occurring in the Philippines, which only till now, included four endemic species. Their research increases the number to seven.
"Of course, there is more to discover, that is, if we preserve and protect our remaining forests," Dupo said. To download a copy of the taxonomic paper, go to website of the Association of Systematic Biologists of the Philippines at http://asbp.org.ph or directly click on this link: http://asbp.org.ph/wp-content/uploads/2020/05/PJSB_S01-2019-009.pdf