Julianne Afable and Florante Cruz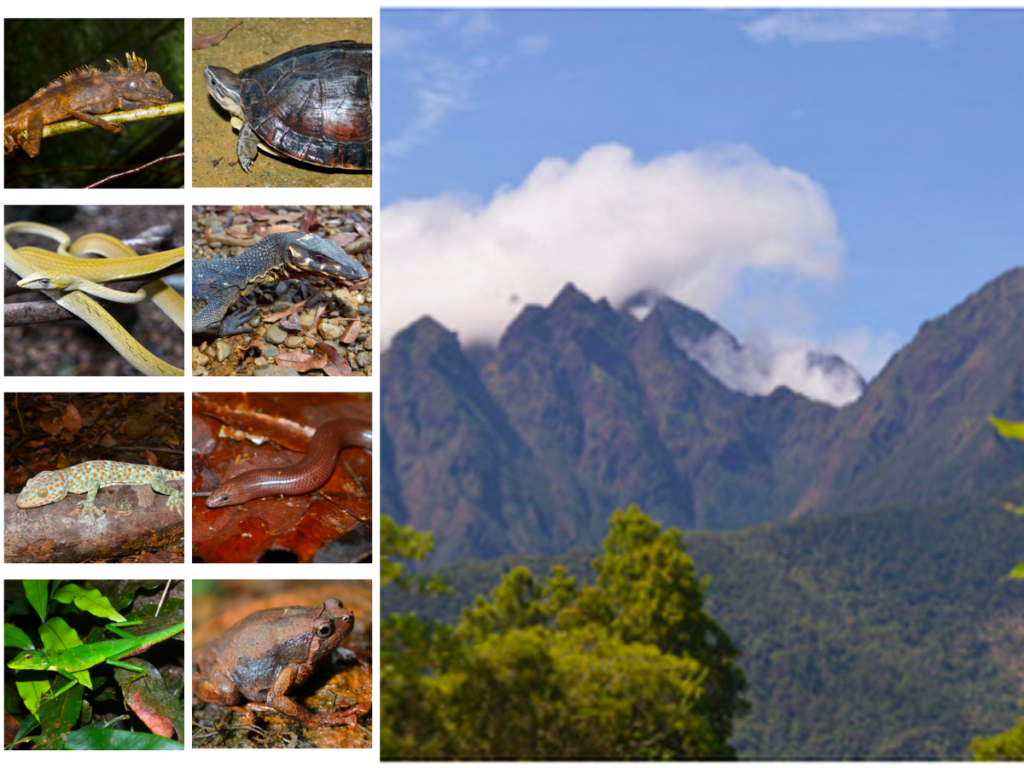 As one of the world's mega-biodiverse countries, the Philippines amazingly abounds in flora and fauna most of which are found nowhere else but in forests and aquatic ecosystems within the country's more than 7,000 islands.
Particularly in the Sibuyan Islands of the Romblon Island Group in Central Philippines, an important key biodiversity area known as Mount Guiting-guiting has once again hugged the biodiversity limelight after a group of researchers produced new accounts of the species diversity of amphibians and reptiles of the island.
The researchers, led by Camila G. Meneses, a former UPLB Museum of Natural History Extension Associate and current PhD student at the University of Kansas, USA recently reported on an updated and comprehensive account of the herpetofauna of the mountain, one of the few remaining protected landscapes in the Philippines with relatively intact habitats from sea level to its peak.
Isolation creates amazing biodiversity
"Mt. Guiting-guiting is probably one of the last frontiers for Filipino biologists, and it is truly a haven of biodiversity," Meneses shared during an online interview. Also known as "the Galápagos of Asia," Sibuyan Island has been a favored study area by local and international scientists because of its geologic isolation from the rest of the archipelago, and even the world, since it was formed millions of years ago.
Owing to the Philippines' complex geologic history, there is much to be said about the rich vertebral biodiversity and abundance of endemic species in the Philippine islands' physical geography. The Romblon Island Group, known for its great landscapes and seascapes is strategically placed within the Philippines' arc-continent collision system years back. According to Meneses and her colleagues, geological activities like crustal plate movements, spreading rift zones, and subduction have contributed to the island group's biodiversity, particularly that of terrestrial vertebrates.
Amphibians and reptiles reflect Guiting-guiting's health
"Interestingly, several studies have pointed out that the Philippines cater to the greatest diversity of land vertebrate species per unit of land area on Earth," she said. A study by Brown and Diesmos in 2009 showed that 46% out of 1196 documented native species of amphibians, birds, mammals, and reptiles are in fact, endemic to the Philippines.
Biological diversity is an important facet of determining the health of the environment. Diversity of herpetofauna in particular, according to Meneses, mirrors the status of Mt. Guiting-guiting as a protected area. "Amphibians and reptiles are established indicators of environmental health, and their presence and abundance in an area tell us about the environment as well as the threats to the health of its ecosystems," Meneses said.
Species diversity and interesting findings in Mt. Guiting-guiting
According to their recent publication in Check List: The Journal of Biodiversity Data [https://doi.org/10.15560/18.5.941]1, the researchers were able to account for 47 species of amphibians and reptiles constituted by 11 anurans, 21 lizards, 14 snakes, and one freshwater turtle.
Of these 47 accounts, 15 are considered new amphibian and reptile distribution records in Mount Guiting-guiting and represent an additional 21% to Sibuyan's known herpetological species diversity.
"There is still a lot to discover in Sibuyan Island," said Meneses who pointed out that apparently, researchers still underestimate the celebrated protected area's biodiversity despite the many studies that have already reasonably and well characterized the area.
One of the species observed by Meneses during her expedition is the Philippine Forest Dragon Gonocephalus sophiae (Gray, 1845), an agamid lizard distinctly characterized by a large head and well-developed nuchal and vertebral crest.
"The Sibuyan population of Philippine Forest Dragon is remarkably a bit different from the other populations in the country," Meneses shared. "We have shown that the unmistakable diastema between the nuchal and vertebral crest of forest dragons from Sibuyan is phylogenetically distinct from other Philippine populations," she added. The extent of distribution of the species in the Romblon Island group is unknown and its conservation status is currently classified as data deficient.
Meanwhile, the Coura amboinensis amboinensis (Daudin, 1802) an Asian box turtle with vulnerable conservation status was also included in the species list of the researchers. They noted that the Sibuyan population of C.amboinensis amboinensis has continuously declined because of poaching. "The turtle is being illegally traded in the exotic food market," Meneses explained.
The group also recorded Luperosaurus corfeldi (Gaulke, Rosler & Brown 2017), a rare forest gecko species. "This forest gecko is said to be rarely encountered and we have been fortunate to have the only record of this camouflaging gecko in the Romblon Island Group as a result of our expedition," she declared. The distribution of L. corfeldi is currently unknown but is possibly restricted to the RIG and Panay Island.
Furthermore, the group's new distribution record of Eutropis borealis (Brown & Alcala, 1980) confirmed a 2020 study predicting its presence in Sibuyan. "We were also able to account for two Romblon-endemic reptiles which were described in 2016, the Romblon Province Gecko, Pseudogekko isapa (Siler, Davis, Diesmos, Guinto, Whitsett & Brown, 2016) and the Tablas Slender Skink, Brachymeles dalawangdaliri (Davis, Geheber, Watters, Penrod, Feller, Ashford, Kouri, Nguyen, Shauberger, Sheatsley, Winfrey, Wong, Sanguila, Brown & Siler, 2016).
Research strengthens protection of Mt. Guiting-guiting
The new findings of reptile and amphibian species in Mount Guiting-guiting provide insight into Sibuyan Island's vast resources and the biodiversity our protected areas hold. Moreover, the researchers' findings echo the call for more repeated biodiversity surveys and regular re-estimation of species diversity in protected places such as Mount Guiting-guiting.
The study revealed that there is so much more to discover within our protected areas and more importantly, the need for continuous assessment of species' conservation status.
The authors highlighted Sibuyan Island's rich amphibian and reptile diversity which, according to them, is only a small part of what makes up Sibuyan Island's conservation value. The island's unique characteristics such as its isolation and history of being unconnected to any landmass, and amazing species diversity make the island truly a remarkable destination.
---
1Meneses CG, Siler CD, Alviola PA, Gonzalez JCT, Balatibat JB, Natividad CA, Brown RM (2022) Amphibian and reptile diversity along a ridge-to-reef elevational gradient on a small isolated oceanic island of the central Philippines. Check List 18(5): 941-948.