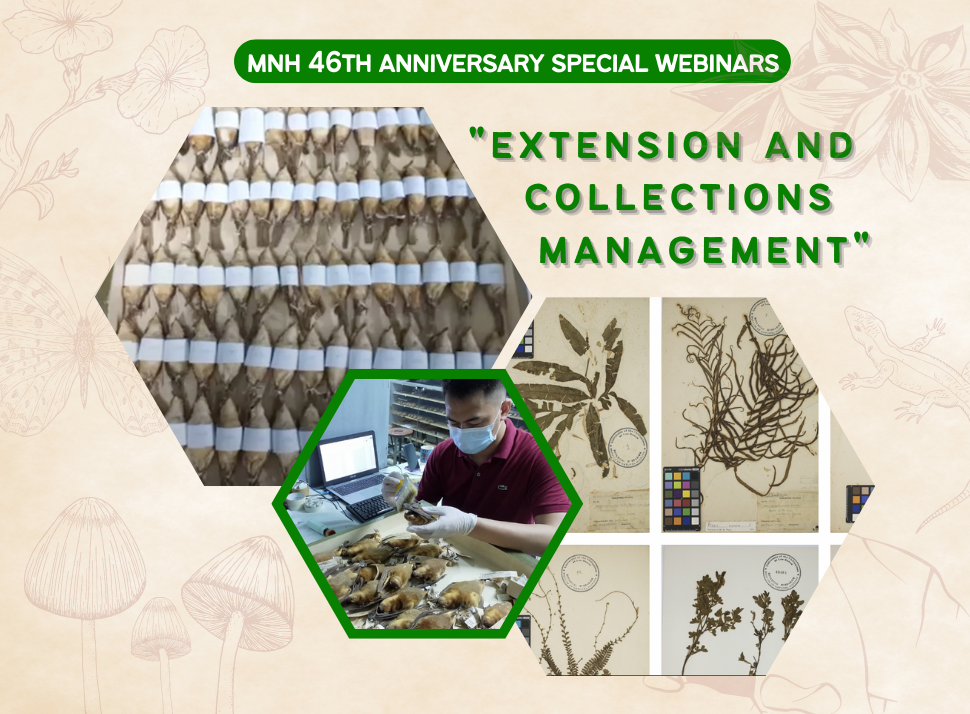 To wrap up its lineup of special webinars to celebrate its 46th Founding Anniversary, the UPLB Museum of Natural History (MNH) focused its third set of webinars on extension and collections management last 30 September 2022 from 9:00 AM – 12:00 NN via Zoom.
Recognizing the importance of museum collections in documenting critical information about Philippine natural history, museum staff and curators discussed various museum projects which were geared towards digitization and collections management.
During the webinar session's first presentation, Senior Museum Specialist Jan Dexter Lumibao shared that with more than 250,000 preserved Philippine animals, plants, cultures of living microorganisms, and other natural history collections documenting the country's biodiversity, the MNH has continuously strived to reinvigorate is management of museum collections for better and more efficient safekeeping.
According to Lumibao, the MNH holds over 10,000 bird specimens and over 4,000 mammalian specimens maintained in the DS Rabor Collection of MNH's Zoological and Wildlife Section.
"Looking after these specimens is essential as these tell the story of how rich our biodiversity was in the past century; moreover, these heritage collections symbolize the sacrifices and studies made by our scientists and researchers in the past," Lumibao said as he emphasized the importance of maintaining natural history collections.
To contribute to globally available data sets on biodiversity, the MNH, as discussed by Prof. Phillip Alviola, curator for small mammals and other wildlife, is now contributing data to the Global Biodiversity Information Facility (GBIF) by way of digitization. GBIF is an international network and data infrastructure which allows anyone from any part of the globe to access data about all types of life on earth, Prof. Alviola discussed.
Meanwhile, the same efforts are being done for the herbarium specimens of the MNH. For. Michelle A. San Pascual, University Researcher at the MNH gave updates on the botanical herbarium database. MNH's botanical collections, according to San Pascual, is considered the second largest collection of herbarium specimens in the country with its more than 70,000 specimens of flowering plant species, ferns and fern allies, mosses, and hepatics and algae.
Biodiversity conservation education
With biodiversity education and promotion being part of its core mission, the museum launched its new website powered by an updated content management system. During the ceremonial public launch, museum extension specialist Florante A. Cruz gave a short online tour on the museum's contents like news and updates, organizational information, research services, virtual exhibits, and links to specimen databases.
Through the years, the museum has engaged schools, students, and scholars in its activities working together with different institutions like the Department of Science and Technology (DOST). In the latter part of the webinar, two of DOST Science Education Institute's (DOST-SEI) fellows undergoing the Career Incentive Program (CIP) and now working with the UPLB MNH shared their DOST-CIP journey with the museum as their host institution.
Aiming to create a sustainable reservoir of competent S&T professionals in the country, the DOST CIP Fellows undertake R&D work by working under any host scientist, network institution, or DOST research facility after completing their graduate programs.
Ms. Frances Mae Tenorio, a MS Wildlife graduate and Mr. Nathaniel Alcantara, a MS Microbiology graduate, both from UPLB, are CIP Fellows deployed at the MNH. Tenorio and Alcantara talked about the application process, their reasons for choosing to work with the museum, and the challenges of undergoing research and museum work during the middle of a pandemic when activities have been limited.
To end the program, Dr. Ruby Roan Cristobal, Chief Science Research Specialist from the DOST-SEI gave the closing remarks. She lauded the museum's role in engaging schools, students, and scholars in its activities and helping them "appreciate and value the environment and understand how science can be used to protect the environment which sustains us."