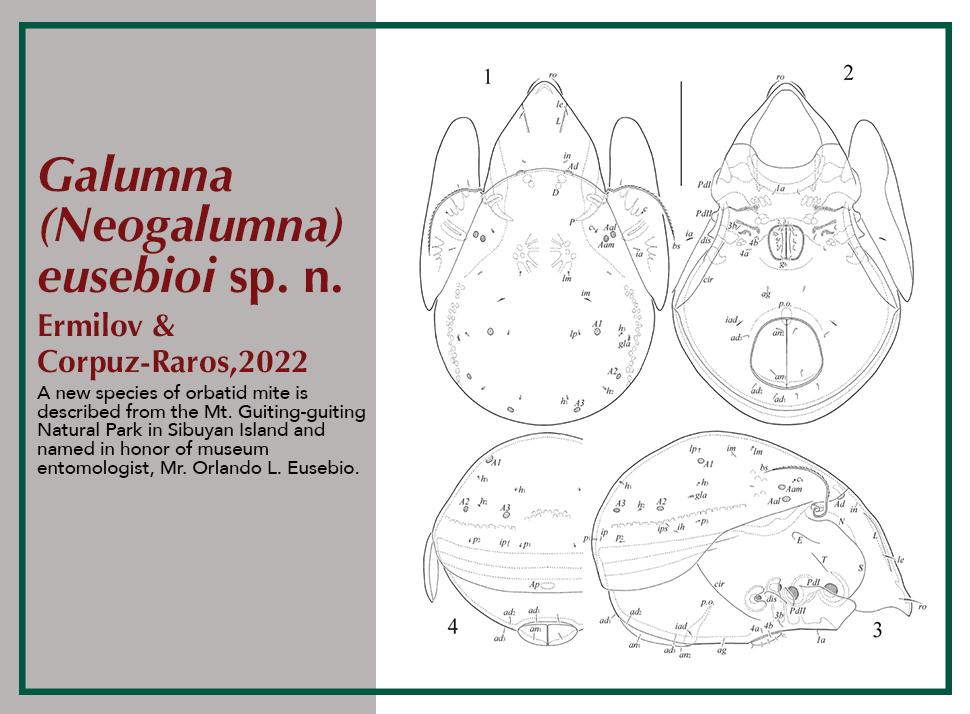 A new oribatid mite, Galumna (Neogalumna) eusebioi, has been described by Russian acarologist Sergey G. Ermilov and UPLB Museum of Natural History (MNH) entomologist and curator, Professor Emeritus Leonila Corpuz-Raros, in June 2022. The new species has been collected from Mt. Guiting-guiting Natural Park in Sibuyan Island.
The new species has been named in honor of Mr. Orlando L. Eusebio, one of MNH's resident entomologists and an expert on Philippine Phasmatodea. Eusebio is a long time museum technician employed in the University of the Philippines Los Baños and credited with the discovery of several species of stick and leaf insects.
Oribatid mites are found mostly in soils and also live in other plant surfaces like the bark, twigs, and leaves of trees, as well as on mosses, shrubs, and other aquatic, semi-aquatic, and coastal habitats1. Although hardly visible to the naked eye, oribatid mites are considered important species in terms of direct and indirect effects on the formation and maintenance of soil structure.
According to the species' authors, Galumna (Neogalumna) eusebioi sp.n., although possessing features typical of the two species currently included in subgenus Neogalumna, is distinguished by the presence of two pairs of notogastral porose areas Aa. Oribatid mites of Neogalumna have only one pair, and so far, according to the authors, "one species of Galumna (Neogalumna) has been recorded in the Philippines, which is G. (N.) tolstikovi, described in 2014. The formal description of the new species has been published in ACARINA Russian Journal of Acarology (DOI:10.21684/0132-8077-2022-30-1-9-12) published by the University of Tyumen in Russia.The holotype and two paratypes of the new species are deposited in the collection of Tyumen State University Museum of Zoology.
---
1Behan-Pelletier, V. M. (1999). Oribatid mite biodiversity in agroecosystems: role for bioindication. Agriculture, ecosystems & environment, 74(1-3), 411-423.