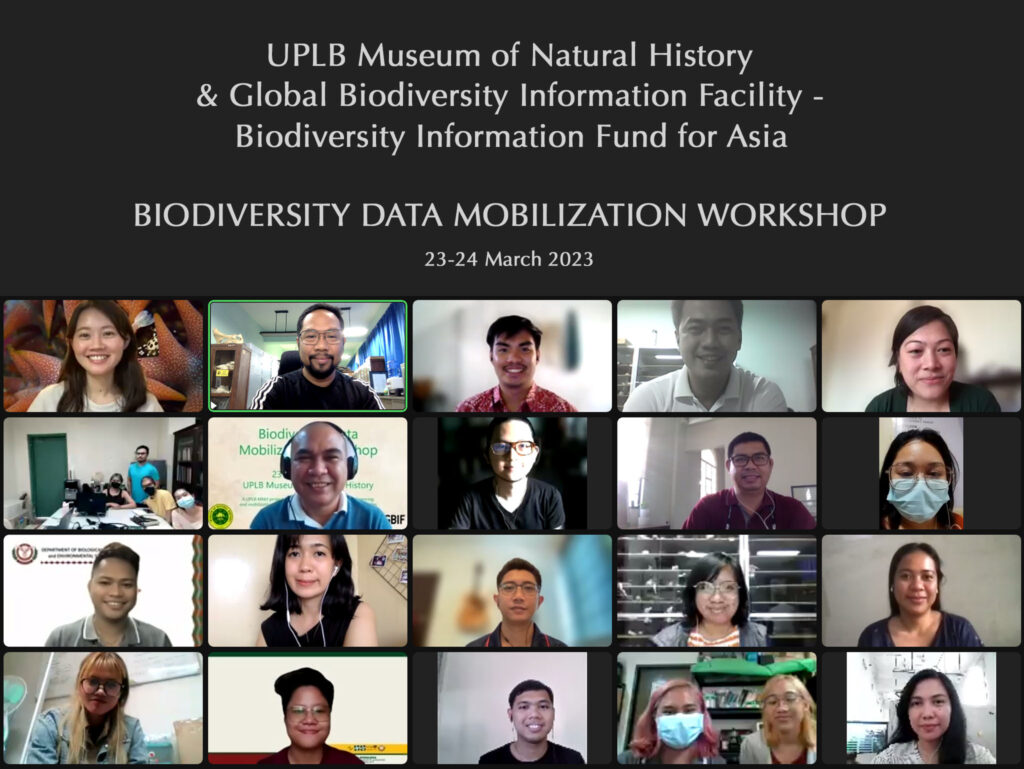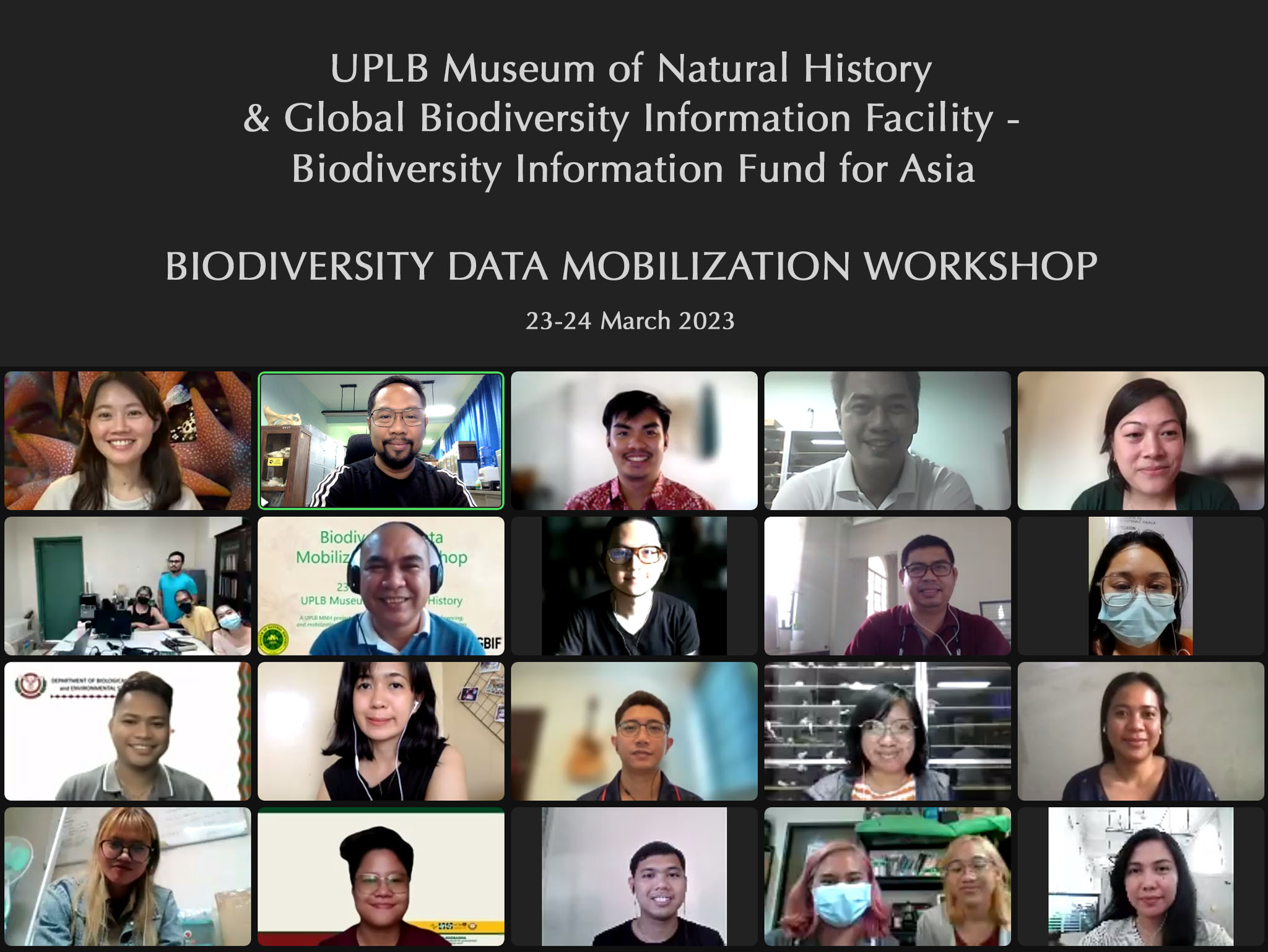 More than twenty biodiversity researchers from the Philippines attended the UPLB Museum of Natural History's online "Biodiversity Data Mobilization" workshop last 23-24 March 2023. The participating researchers came from UP Los Baños, UP Diliman, UP Mindanao, Philippine National Museum of Natural History, DOST-funded research programs, and other organizations across the country.
The workshop served as the participants' introduction to the Global Biodiversity Information Facility (GBIF), an online platform which can be used by researchers and organizations to publish openly and online various biodiversity-associated data papers.
In a welcome message delivered during the start of the workshop, Associate Professor Phillip A. Alviola said that "one of the workshop's aim is to have more researchers familiar with the digitization process, which will help them plan for a digitization project."
Alviola is the proponent of "Digitization, Georeferencing, and Mobilization of Philippine Chiroptera and Associated Ectoparasites and Pathogens from the University of the Philippines Los Baños Museum of Natural History, " a GBIF-Biodiversity Information Fund for Asia (BIFA) Cycle 6-funded project which is nearing completion.
The Museum has joined the GBIF as a Data Publisher in March 2019. As of now, it has published 8,399 occurrences in 6 datasets which included museum collections of predatory arachnids, bats, macrofungi, and plants from the Rubiaceae family. The datasets have already been cited in 12 data papers published by the GBIF.
After Alviola's remarks, Nepal-based Lily Shrestha provided an introduction to the GBIF-BIFA. She also discussed GBIF's network of participating institutions, how to participate in GBIF, and data mobilization projects in the Philippines. Melissa Liu of the Taiwan Biodiversity Information Facility was also on hand to provide support during the workshop. As GBIF-BIFA consultants, Shrestha and Liu share guidance on best practices, provide help desk services, and mentor project-team members of GBIF-BIFA across GBIF's regional network.
A workshop then ensued with project staff Jezryl Jaeger L. Garcia giving a lecture on how to plan a GBIF data digitization project. Through an online card-based game, he facilitated a workshop on how the digitization planning process is done. The game enabled the participants to understand the importance of project stakeholders and their institutions in achieving a digitization project goal. According to Garcia, "the workshop participants need to determine the role of each stakeholder in the various digitization steps, and ensure that they will be efficiently performing their tasks."
Thereafter, project staff Jan Dexter DF. Lumibao lengthily discussed topics related to biodiversity data, data capture, and processing before spearheading a half-hour workshop. He also shared protocols in data encoding and standardization, making sure that participants are able to appreciate the Darwin Core Standard, a framework for compiling biodiversity data from varied and variable sources.
The participants were then divided into two groups. They were tasked to create their own Darwin Core spreadsheets using a prepared occurrence dataset and to fill up those spreadsheets using information found on digitized museum specimen tags and catalogue sheets.
At the start of the second day, Alviola gave a recap and highlighted some answers to questions raised during the first day's open forum. After which, Garcia discussed a module on Data Management and focused on discussing the key principles and processes in data management. "In databasing, it is very common to expect errors, hence, we employ data cleaning protocols and tools to improve the quality of our data," Garcia shared. He also discussed on determining error types, how to search for the errors and correct them while documenting the instances, and modifying a project's data entry protocol to reduce the errors in the future.
As an exercise, he shared a dataset on birds which have several technical and consistency errors and which participants then proceeded to clean using various techniques.
For the last module, Lumibao facilitated a learning session on how to publish biodiversity data using the GBIF's integrated publishing toolkit (IPT). He also gave a demonstration on how to use IPT to upload the cleaned and verified data sets to the GBIF.
All in all, the participants were able to learn more on digitization and experienced actual data mobilization processes, from capture to publishing. A number of issues, concerns, and clarifications were also discussed during open fora done after the online exercises.
In closing the workshop, Alviola thanked the participants for their overwhelming interest in using the GBIF to publish biodiversity data papers.
"Of course, it does not end here, and we want you to pursue this on a long-term basis, specially for those who have substantial biodiversity collections," he said.
GBIF's Lily Shrestha also thanked the organizers and participants, saying "it has been really great for the past two days, and we hope that you have been motivated and encouraged to publish your biodiversity data openly to contribute to global conservation."