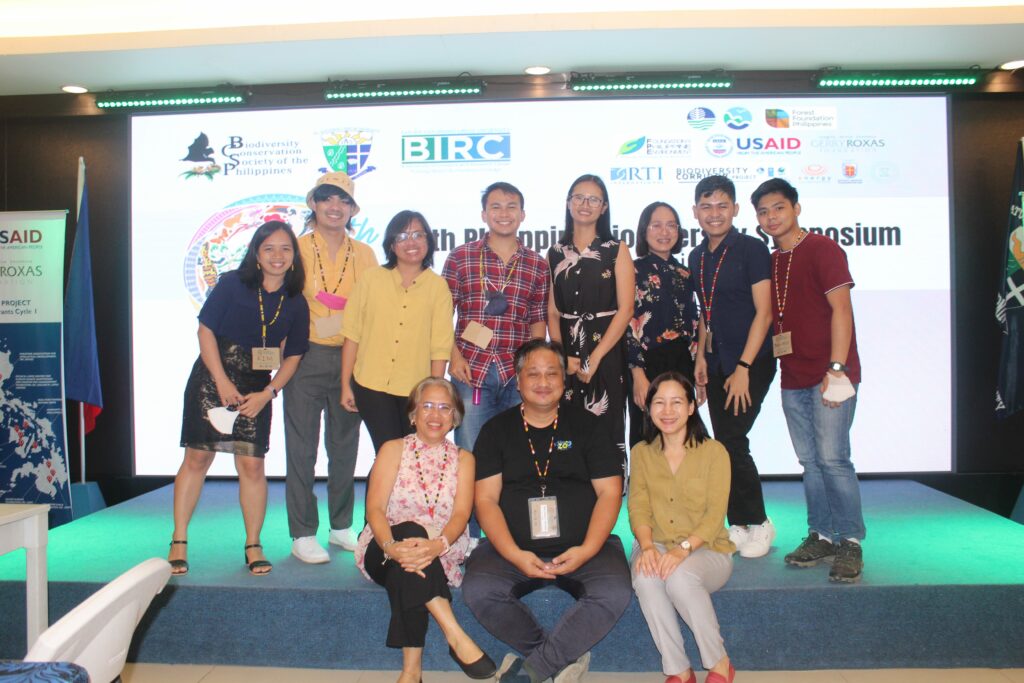 Museum curators, staff, and students joined other wildlife biologists and practitioners working on Philippine biodiversity research and conservation during the 30th Philippine Biodiversity Symposium held at the Father Saturnino Urios University in Butuan City last 6-9 December 2022.
The biodiversity symposium is held annually by the Biodiversity Conservation Society of the Philippines (BCSP), an organization of wildlife researchers, managers, scientists, and conservationists. BCSP aims to advance wildlife research and conservation in the Philippines through promoting collaborative research, providing technical assistance, and training, and increasing public awareness.
With the theme "The Future of Philippine Biodiversity," this year's biodiversity symposium featured workshops, plenary talks, boardroom conversations on conservation, and concurrent sessions on paper presentations by symposium participants.
The first day of the symposium on December 6, 2022 featured workshops and plenary sessions where museum curators served as speakers.
Dr. Leticia E. Afuang, Professor at the Animal Biology Division (ABD) of the Institute of Biological Sciences (IBS) at UPLB and MNH curator for herpetofauna, joined by Abdullaziz S. Arcillo and Jahn Zylke T. Ong, discussed "Doffing and Snake Prejudice: Snake ID and Snake Safety."
Meanwhile, Phillip Alviola, Associate Professor at UPLB IBS-ABD and MNH curator for small mammals and other wildlife discussed "Catalyzing IUCN Red List assessments for Philippine bats through local experts and academia partnerships" where he was joined by Dr. Mariano Roy Duya of UP Diliman and Dr. Dave Waldien of Christopher Newport University, USA.
On 7 December, Dr. Juan Carlos T. Gonzalez, UPLB IBS-ABD Professor of Zoology and MNH curator for birds gave a plenary talk on "Learning from the past: How understanding our history can shape the future of Philippine biodiversity conservation."
The next days of the symposium featured various research and conservation strategies presented by attendees from all over the country. Among the presenters during the symposium were museum curators, staff and students who highlighted their ongoing or completed research and conservation initiatives:
Tales from the cave: Dead moths do tell tales – Aimee Lynn B. Dupo, Kristine O. Abenis, Marnelli S. Alviola, Orlando L. Eusebio, Cristian C. Lucañas, Jeremy Carlo B. Naredo, Kirk J. Taray, Ireneo Lit, Jr.
The tomb raiders: Clown beetles of the Philippines and where to find them (Coleoptera: Histeridae) – Kimberly Ann S. Domingo, Sheryl A. Yap
Status of the UPLB MNH D.S. Rabor Memorial Wildlife Collection – Jan Dexter DF. Lumibao, Jezryl Jaeger L. Garcia, Frances Mae B. Tenorio, Alyssa R. Agapito, Edison A. Cosico, Phillip A. Alviola, Juan Carlos T. Gonzalez
INNOVATIVE conservation education through Biodiversity Enhancement and Environment Sustainability (BEES) and social media integration – Leticia E. Afuang, Josephine D. Agapito
Home range and predation return rate of domestic cats found in Mt. Makiling Forest Reserve, Laguna, Philippines – Frances Mae B. Tenorio, Desamarie Antonette P. Fernandez, Maria Eleanor B. Aurellado, Joselito A., Baril, Juancho B. Balatibat, Anna Pauline De Guia, Ma. Catalina De Luna
UPLB-Japan Philippine bat-borne virus project (2007-2022) – Phillip A. Alviola, Tsutomu Omatsu, Shumpei Watanabe, Shigeru Kyuwa, Joseph Masangkay, Yasuhiro Yoshikawa
Camera traps as non-invasive tool to generate species inventory, distribution and species natural history in Mt. Calavite Wildlife Sanctuary (MCWS), Occidental Mindoro – John Carlo R. Santos, Nikki Heherson A. Dagamac, Cristino L. Tiburan, Jr., Philip A. Alviola, Emmanuel Schütz, Anna Pauline O. de Guia
Shedding more light for sampling in the dark: Comparison of cave arthropod collection methods – Ireneo L. Lit, Jr., Kristine O. Abenis, Marnelli S. Alviola, Aimee Lynn B. Dupo, Orlando L. Eusebio, Jeremy Carlo B. Naredo, Kirk J. Taray
Observation and documentation of the ex situ management procedures for Platymantis insulatus Brown and Alcala, 1970, (Gigantes Limestone Frog) in the Philippines – Janna Lorraine C. Nora, Norman Greenhawk, Leticia E. Afuang, Juan Carlos T. Gonzalez
The poster session, called "Pecha Kucha" which gave presenters two minutes to talk about their posters, also featured works from museum staff and curators:
Diversity of land snails in the lowland forests of Mt. Guiting-guiting, Sibuyan Island – Julius A. Parcon, Harold B. Lipae, Emmanuel Ryan C. de Chavez
Terrestrial vertebrate diversity in caves and karst areas of CALABARZON Region, Southern Luzon Island, Philippines – Renz Angelo J. Duco, Anna Pauline O. De Guia, Julius A. Parcon, Judeline C. Dimalibot, Edison A. Cosico, Ammie R. Aguila, Charlie P. Malizon, Juan Carlos T. Gonzalez
When small creatures give great excitements: another new species of Parajapyx (Diplura) from the Philippines – Marnelli S. Alviola, Cristian C. Lucañas, Kristine O. Abenis, Aimee Lynn B. Dupo, Orlando L. Eusebio, Jeremy Carlo B. Naredo, Kirk J. Taray, Camille Faith D. Duran, Ma. Francia Kyla M. Cammayo, Ireneo L. Lit, Jr.