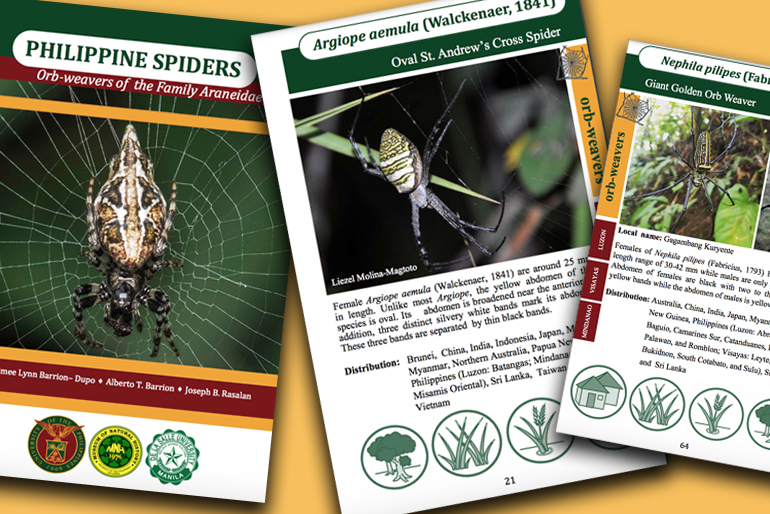 A new book on Philippine spiders, focusing on the orb-weavers of the Family Araneidae, has been written and recently published by Dr. Aimee Lynn B. Dupo, MNH curator for spiders and moths and her co-authors Dr. Alberto T. Barrion and Mr. Joseph R. Rasalan.
Dr. Barrion is currently a faculty at De Salle University in Taft, Manila who has been connected to the Museum as an adjunct curator. Meanwhile, Mr. Rasalan is a regular museum volunteer and currently a project staff in the museum's ongoing digitization project.
The almost 100-page book is a long-awaited, physical manifestation of the more than five years of collecting and curating spider images and natural history data by the authors alongside passionate citizen scientists on social media. It presents 56 species of Philippine orb weavers and the authors hope to build upon the current work in the coming years.
In her foreword for the publication, ASEAN Center for Biodiversity Director Theresa Mundita S. Lim wrote that "the book will foster greater appreciation of spiders and their crucial role in ecosystems…. and by guiding its readers to identify spiders, it will hopefully pique interests and invite active participation in citizen science and biodiversity conservation."
The book is a simple reference for individuals who want to know about spiders and has been prepared to aid people in identifying spiders, specifically the orb-weavers of the Family Araneidae using photographs and natural history notes. It provides the spiders' scientific name, English common name, Filipino local name, description, distribution and habitat, as well as a short primer on them.
"We all know that a lot of people are interested in spiders but unfortunately, are they unable to access local publications which are easy to use and understand," Dr. Dupo said. "Of course, this book should only supplement the correct way do taxonomic work, which is to examine the spiders' reproductive organs under the microscope," she added.
The authors seek to see the book spark further interest in those who are interested in spiders. "We are really happy with this book because a good sample of the photographs were contributed by citizen scientists, which just proves that indeed, the interest and curiosity for spiders by ordinary citizens can bring about further love on these misunderstood creatures," Dr. Dupo intimated.
"For that love alone, we give our sincerest thanks to all the citizen scientists and citizen science partners at the Philippine Arachnophiles who contributed to this book." she said.
The spiders represented in the book were collected with permits from Ilocos Norte, National Capital Region, Laguna, Quezon, Sibuyan Island, South Cotabato, Zamboanga del Sur, and Lanao del Sur.
"Much of the input we have for this work were the results of our research projects funded by the Department of Science and Technology – National Research Council of the Philippines and the UP System's Enhanced Creative Work and Research Grant, which we are extremely grateful for," Dupo shared.
Copies of the book will soon be made available for purchase from the UPLB Museum of Natural History.