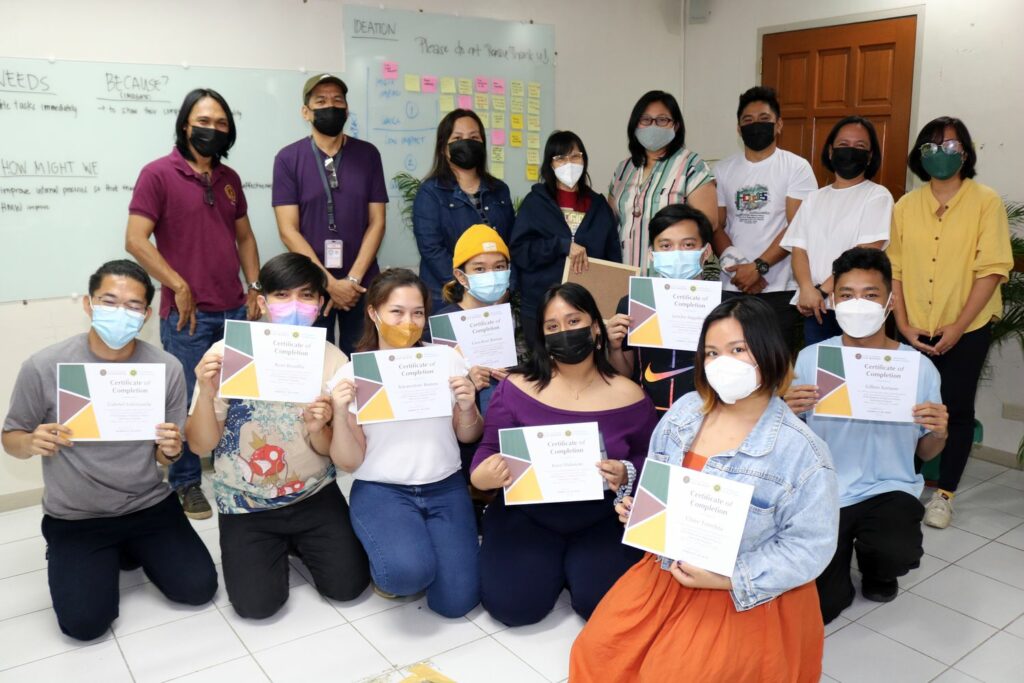 BS Biology students from the Manila Central University (MCU), a private integrated basic and higher education institution in Caloocan City, Metro Manila, recently underwent a 200-hour internship program at the UPLB Museum of Natural History. MCU students Gabriel B. Valenzuela, Ryan Kristian P. Boadilla, Gilton R. Soriano, Gion Kovi D. Bismar, Arjeaneylene D. Ramos, Kaye O. Dalawan, Jericho Caliel N. Suguilon, Claire Anne D. Torreliza served as the museum's interns in a hybrid (virtual and on-site) program from 11 July 2022 to 19 August 2022.
The virtual component of the internship program tapped the interns' writing and editing skills as they prepared an operation manual and several multimedia resources which are useful to the museum's botany, mycology, zoology, and microbiology sections. Meanwhile, the on-site component held inside the UP Los Baños campus last 15-16 August 2022 comprised of lecture-demonstrations on the various collections and field activities of the museum.
During the wildlife exposure activity, the MNH's technical staff guided the interns in setting up mist nets and later disentangling and releasing bats which were caught in the mist nets. The interns were also given experience in herping or looking for and properly capturing amphibians and reptiles. Furthermore, they also gained some experiences in identifying the frogs and bats, which are part of the specimen processing procedures.
Getting up close with different forms of wildlife and learning techniques to manage them are some unique experiences the MNH internship offers. Indeed, one of the interns Ryan Kristian Boadilla says these activities were most significant for him especially "getting close with frogs and bats by walking through the Hortorium at night and setting up nets." Meanwhile, another intern, Gion Kovi Bismar, expressed how grateful he was because the internship gave him an opportunity to handle specimen in the wild, something he expects to do when he pursues a career in veterinary sciences.
A hands-on session focused on mycology was also conducted. Interns were able to collect various species of macrofungi which they were able to preserve through wet and dry methods. For the entomology component, the interns attended a half-day session on entomological collection and preservation techniques. Insect collection skills like sweep netting, pitfall sampling, beat netting, and opportunistic sampling were taught to interns which they were able to practice afterwards at the MNH's Hortorium.
Through feedback, the interns were able share some of their memorable experiences such as handling different kinds of specimen, learning to identify some specimens by using valid and scientific references rather than Google, and learning new techniques employed by biologists in the field.
MCU student Ryan Kristian Boadilla said that the most important skills he learned from the internship were, "being careful in handling preserved specimens because some of them are irreplaceable and being keen and patient with the morphological details in trying to identify specimens," he wrote. Meanwhile, Arjeaneylene Ramos shared how she appreciated being able to experience the different fields of biology which she could possibly pursue in the future.