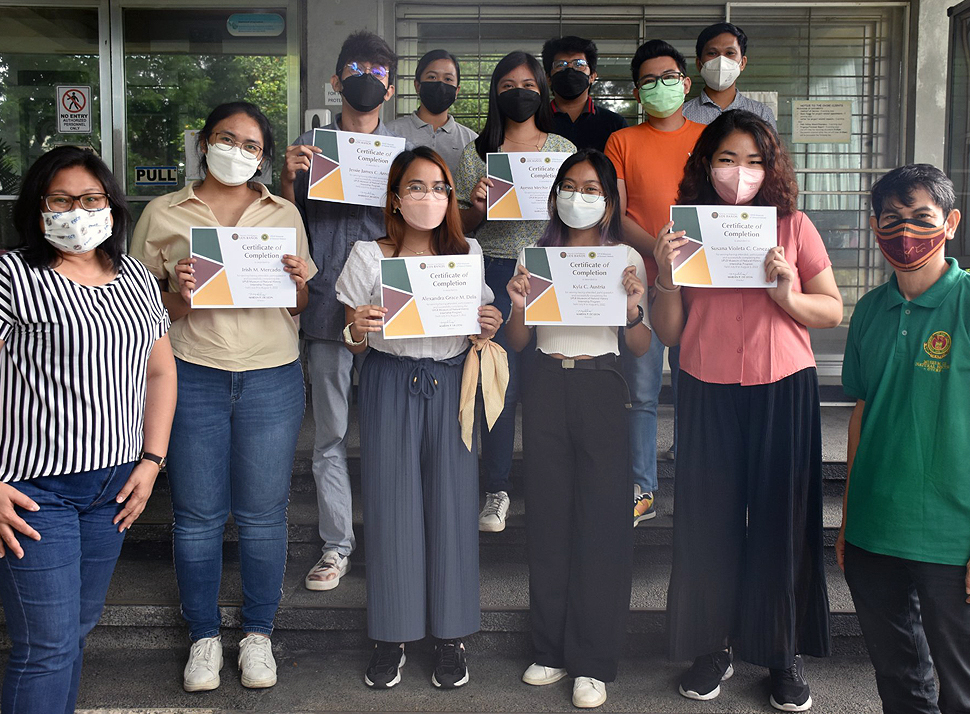 Six BS Biology students from the Institute of Biological Sciences here at UPLB recently completed their internship at the UPLB Museum of Natural History which served as their host training entity.
During a simple closing program last 5 August 2022, student interns Alexandra Grace M. Delis, Ayessa Mechie D. Angeles, Susana Violeta C. Canezal, Irish M. Mercado, Jessie James C. Arnoza, and Kyla C. Austria received their certificates of completion from the museum's director, Dr. Marian P. De Leon.
They were the first batch of interns hosted by the museum on a face-to-face format since the COVID-19 pandemic began. Their internship, which is requirement of their practicum course in BS Biology, ran from 8 July 2022 to 5 August 2022 for a total of 150 contact hours. They were assigned various tasks with the objective of immersing them in hands-on experience or field practice in various workplace settings.
A welcome development for students who were coming from an online mode of learning for the past semesters due to the emergency health situation, the internship gave the students hands-on laboratory experience, presented several opportunities to use laboratory equipment, and refined the students' laboratory skills in performing activities such as media preparation, bacterial isolation, DNA extraction, gel electrophoresis, and PCR amplification.
The interns were involved in a study aimed to isolate and characterize E. coli, salmonella, and lactic acid bacteria from bat guano/gut, which are component activities under an externally-funded project being implemented at the MNH. The interns were also trained to identify the phenotypic and genotypic characterization of isolated and purified organisms; analyze sequences and create phylogenetic trees; and then deposit the said sequences in the National Center for Biotechnology Information database.
The students' internship was supervised by Director Marian P. De Leon, who is also curator for cave microbes, with the assistance of Dr. Noel G. Sabino, MNH's curator for bacteria, yeasts, and molds. The interns' laboratory activities were monitored and guided by Nathaniel R. Alcantara, Bonie B. Datul and Paul John F. Flores, research assistants of the Museum's NICER CAVES Program.
According to the interns, the program they underwent really enabled them with the skills that they have not been able to do due to the remote learning set-up.
Evaluating the program as part of the feedback mechanisms, Ayessa Angeles said that "I was able to improve on the basic microbiology laboratory techniques which I last practiced during my freshman year at the university… I was able to apply most of the things that I know theoretically in an actual laboratory work; especially during the molecular aspect."
Meanwhile, another intern, Kyla Austria wrote about being able to develop her own pace in doing laboratory work through the internship. "I have also acquired the habit of cleaning my working area after using it, building my own strategy when using techniques which involve multiple instruments and glassware, using my critical thinking skills in coming up with ways on how to go about certain problems in an experiment, and becoming more adaptable to certain changes in procedures and schedule," she said.
Through the internship, the students were able to work within the dynamics of an actual research laboratory which gave them a glimpse of working in the field of research as they were also tasked to prepare journal article reports and present the results of their laboratory activities.
Moreover, the internship has allowed for the students' improved decision making in terms of their future academic and career plans. The internship gave them a comprehensive experience on laboratory work and gave the interns confidence in pursuing their own research. Irish Mercado stated that prior to the program, she lacked laboratory experience, which contributed to her lack of confidence in pursuing a thesis. But, after witnessing how fulfilling it was to be somehow a part of a research project, she became more willing to take on the challenge given the inspiring result of their intensive training and learnings from the internship.