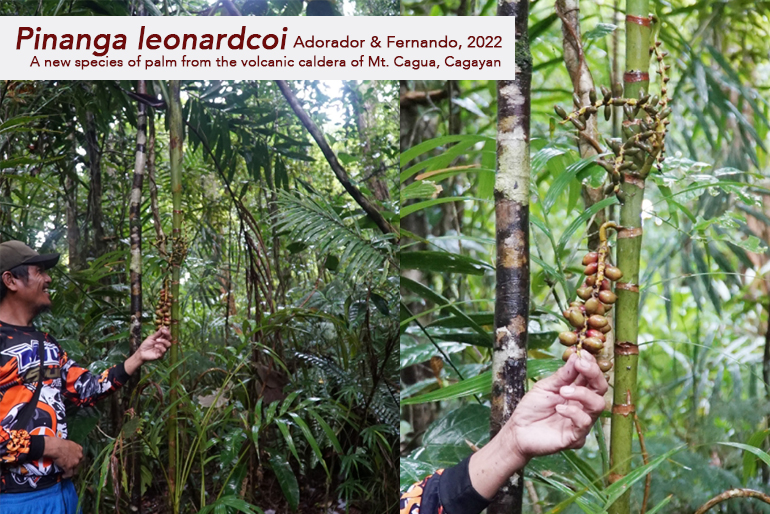 A slender new species of Pinanga, a genus of palms native to eastern and southern Asia across to New Guinea, has been recently described from the volcanic slopes of Mt. Cagua, Cagayan by botanists Jiro T. Adorador and Edwino S. Fernando. Adorador and Fernando are assistant professor and Professor Emeritus, respectively from the University of the Philippines Los Baños.
Their discovery has been published in the journal Phytotaxa (https://doi.org/10.11646/phytotaxa.536.2.7) last 24 February 2022.
According to Adorador and Fernando, the new palm is named Pinanga leonardcoi as tribute to the late Leonardo Co, an esteemed botanist and taxonomist par excellence who led expeditions which surveyed Mt. Cagua's caldera, natural vents, and montane forests from 1990-1995.
"Leonard Co, a selfless individual and a scientist extremely devoted to the conservation of Philippine native plants, headed the team which collected the then unknown Pinanga specimen. It was deposited in the University of the Philippines Herbarium (now known as the Jose Vera Santos Memorial Herbarium of the Institute of Biology in UP Diliman) as an unidentified Pinanga, specifically labelled as 'Pinanga sp. 7," Adorador said.
During the course of his wide study of Pinanga under the mentorship of Prof. Emeritus Fernando, a plant taxonomist at UPLB's College of Forestry and Natural Resources and curator of forest palms at the UPLB Museum of Natural History, Adorador came across the unnamed specimen and decided to look for it in Mt. Cagua in August 2021.
"With research grants from the UP System and the International Palm Society, I was able to survey the forests in the caldera of Mt. Cagua in August 2021 and fortunately found a few individuals of this interesting palm on the latter part of the expedition, just when the team was about to give up," Adorador, an assistant professor of plant taxonomy at UPLB's Institute of Biological Sciences, recounted.
Pinanga (locally referred to as 'abiki') in the Philippines is currently at 28 species with the description of P. leonardcoi. The new species has been included in Pinanga's Urosperma group which previously consisted of P. urosperma, P. glaucifolia, and P. samarana.
According to Adorador and Fernando, P. leonardcoi is closely related to the three palms mentioned but "differs by the combination of the following characters: clustered stems with stoloniferous offshoots, very few rachillae (2–3) with spirally arranged fruits, and fruiting perianth with imbricate calyx lobes."
P. leonardcoi is unique, taxonomically and figuratively, as Adorador and Fernando consider it as a narrow endemic palm with a Critically Endangered conservation status. "Prior to our study, the palm has only been collected once, and only in the forested caldera of Mt. Cagua, an active volcano," Adorador said.
P. leonardcoi has not been found or recorded elsewhere, but it is possible that is established in the said area. "However, there is a real chance of it getting easily extinct should Mt. Cagua erupt," Adorador clarified.
Just like Leonard Co, "Leonard's abiki'" is one of a kind. "We are very fortunate that despite the harsh environment it has grown in, P. leonardcoi has still thrived," the professor stated. "We hope that it stays that way, and becomes part of the legacy of Sir Leonard," he said.
Leonardo Co, a widely considered as a foremost expert in Philippine botany and plant taxonomy due to his vast experience in the field, was tragically felled by a "controversial" crossfire of bullets on 15 November 2010 while he and his team were working on a biodiversity project in Kananga, Leyte.