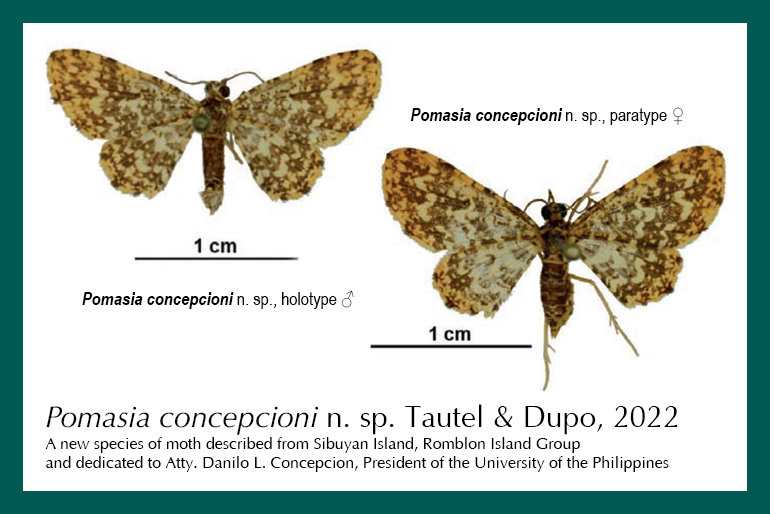 A new species of geometrid moth, specifically a "pug" moth, has just been described from the island of Sibuyan of Romblon by the Museum's curator for geometrid moths and spiders, Dr. Aimee Lynn B. Dupo and French lepidoptera systematist, Claude Tautel.
The description of the new moth was published in the journal ANTENOR Tropical Lepidoptera Studies [Antenor 8(2): 173-175] this 29 April 2022.
The new moth, Pomasia concepcioni n. sp., has been named after Atty. Danilo L. Concepcion, current President of the University of the Philippines and a great supporter of biodiversity research in Sibuyan. The scientific name is already registered in Zoobank, the official register of the International Commission on Zoological Nomenclature.
P. concepcioni is currently the only species of the genus Pomasia known from the Philippines. According to Dr. Dupo, prior to their discovery, Pomasia had only 16 species distributed among Sri Lanka and Indonesia, with Bornean species accounting for 11.
"Pomasia's presence in the Philippines has been virtually unknown until two specimens were collected, the first in 2011, a male individual found near the Cantigas River in the town of San Fernando, and the second in 2014, a female from Mt. Guiting-guiting," Dr. Dupo reported.
Interestingly, Dr. Dupo also relayed that there is a great chance that the species may also be present in the island of Palawan. "For the species to reach Sibuyan, for sure, it would have to travel from Borneo to the Philippines via Palawan."
"This underscores the importance of biodiversity surveys in far-off Philippine islands, such as the one we were able to do with the support of President Concepcion," Dupo added. "Only through these 'basic studies' can we know of the existence of rare fauna in the Philippines," she added.
According to Dupo, the need for these studies are much needed especially in the last island frontiers of the country. "The protected areas in these islands are continually under great pressure due to unplanned and often misguided development thrusts," she said.
"If not for biodiversity studies, we will not be able to know what we truly have. It is not surprising that we may be actually losing these unique species even before we have a chance to find them," Dupo stated.