Julianne Afable and Florante Cruz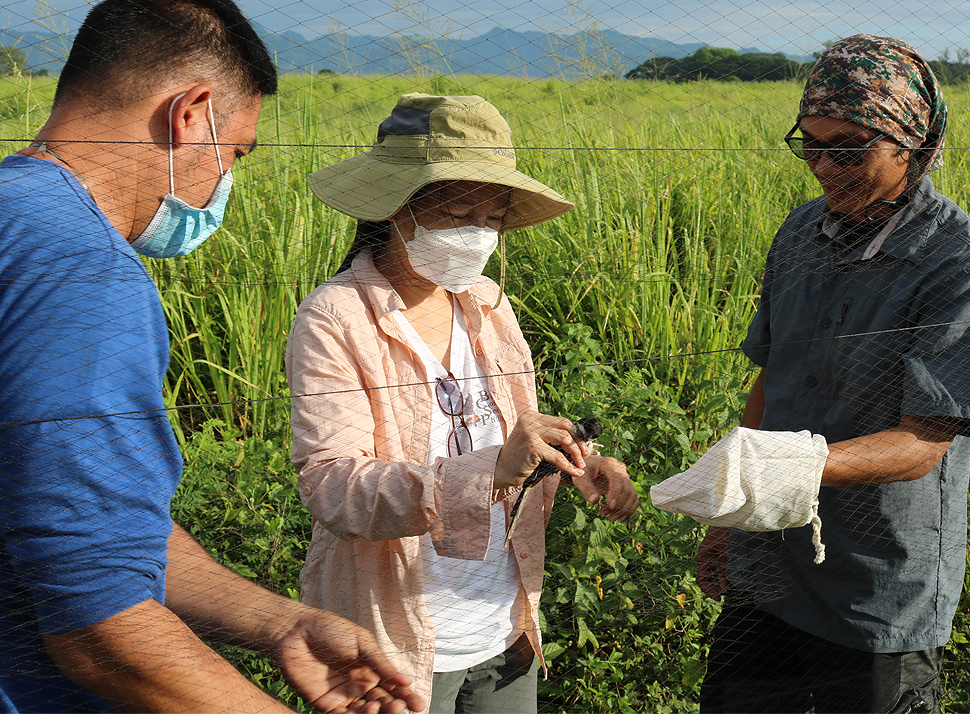 Bird strikes, defined as collisions between birds and aircraft, pose a severe threat to aircraft and avifauna alike. These collisions are lethal to birds and may cause significant damage to airplanes and helicopters. Bird strikes which involve large single avian individuals or even flocks can cause various damages that may result to an airplane's malfunction. Even worse, strikes to aircraft may result to bodily harm to passengers, or even death.
The occurrence of bird strikes is very common in all parts of the world. Airports and air bases, no matter how big or small, are not exempt to these problems. Although the number of major aviation accidents caused by bird strikes is relatively small, the strikes can create enough damage to small jet-engine powered aircrafts which will need large sums of money to repair.
This is particularly true here in the Philippines which has hundreds of resident species of birds. To make matters more problematic, the country is along the East Asian–Australasian Flyway, one of the world's great flyways of migratory birds.
Considering the possible threats of bird strikes, the 5th Fighter Wing of the Philippine Air Force (PAF) led by Brig. Gen. Pedro Francisco III requested the UPLB Museum of Natural History (UPLB MNH) to conduct an avifauna survey at the Cesar Basa Air Base in Floridablanca, Pampanga. The PAF specifically wanted the Museum to determine the bird species that reside and frequent the area and to recommend additional measures to prevent bird strikes to the country's new multi-million peso jet fighters.
According to the Gen. Francisco, Basa Air Base already implements various mitigation measures for bird strikes. The base employs a Bird Aircraft Strike Hazard (BASH) system which involves the use of BASH cannons, anti-bird long-range acoustic devices, multi-beam lasers against nocturnal birds, and the conduct of a pre-takeoff and pre-landing vehicle run to drive away birds from the runway.
The Museum was also tasked to observe the base's system and give recommendations to prevent bird strikes through other means such as bird habitat manipulation and population management. Hence, from 5-9 July 2022, a team from the UPLB MNH led by its curator Dr. Anna Pauline O. de Guia and project members Julius A. Parcon, Edison A. Cosico, Charlie R. Malizon, Khryss V. Pantua, and Florante A. Cruz conducted an avifaunal survey inside Basa Air Base.
The team aimed to identify the bird species present in the base during the wet season using standardized field methods and determine their distribution ranges, habitat associations, and conservation status. Part of the team's objectives was also to determine biodiversity parameters such as avian species composition, species richness, and abundance. Moreover, the team also evaluated the bird strike risk potential of observed species so that more measures can be recommended to enhance bird strike mitigation.
Using sampling techniques like line transect counts, point counts, and mist netting for birds and bats, the team was able to identify and record bird and bat species present in the area. Among the 28 species of birds identified in the Basa Air Base are Hypotaenidia philippensis, Anthus rufulus, Lanius schach, Centropus bengalensis, Megalurus palustris, Lonchura atricapilla, Geopelia striata, Turnix suscitator, Merops philippinus, Saxicola caprata, Tyto longimembris, Glareola maldivarum, and Riparia riparia.
According to Dr. de Guia, the observed birds were predominantly resident and common species associated with open areas. "Resident bird species have broad feeding and habitat requirements and most of them have a wider tolerance to disturbances."
Unfortunately, only one migratory species was recorded by the team. "The sampling period covered the non-migratory season (April to August) of birds," says Dr. de Guia. "But generally, the bird species in the area were locally abundant or widely distributed throughout the Philippines", she notes.
Based on the team's data, the birds were categorized based on risks (low, moderate, or high risk) to come up with a matrix of bird strike risk potential. The matrix indicates which bird species should be watched for, as these are likely to be more involved in bird strike incidences. The matrix also provides a clearer account of the bird species present in the base, allowing for more effective wildlife control measures.
"An analysis of birds' habitat association, activity patterns, and feeding habits gives us a picture of bird strike risk levels. This is important in managing the environmental conditions within the air base to discourage the birds' increase in numbers," Dr. De Guia says.
Continuous wildlife control on and around airfields has been an established standard to prevent bird strikes. For instance, the tall grasses surrounding the taxiway and the runway in Basa Air Base is observed to be an important habitat of a number of bird species. Proper vegetation management is part of the team's recommendation to lessen the incidence of bird strikes. "These tall grasses serve as refuge, nesting and foraging areas for various bird species," Dr. de Guia explains.
Control of the grasses was therefore emphasized as an important measure. "Grasses should be regularly cut and harvested to deter birds from feeding and collecting materials for nests," says Dr. de Guia.
According to de Guia, the base can possibly look into sustainable long-term solutions that would use effective forage and pasture management. "Basa Air Base may explore multi-sectoral approaches, for example, connecting with local cattle or dairy farms or animal feed processors which may use the grass in their own operations. The set-up will be beneficial to the air base, which will be able to regularly and inexpensively get rid of the grasses, and the farm as well, which will have a continuous supply of forage," she adds.
Over the years, successful bird strike prevention at airports and bases have included the identification of high-risk bird species and understanding their movements, abundance, and ecology. The collaboration between the UPLB Museum of Natural History and the 5th Fighter Wing of the Philippine Air Force proves that understanding problems in nature through research is necessary. In order to mitigate bird strikes, the Basa Air Base management should be able to draw from science how to effectively manage the base's bird population.
---