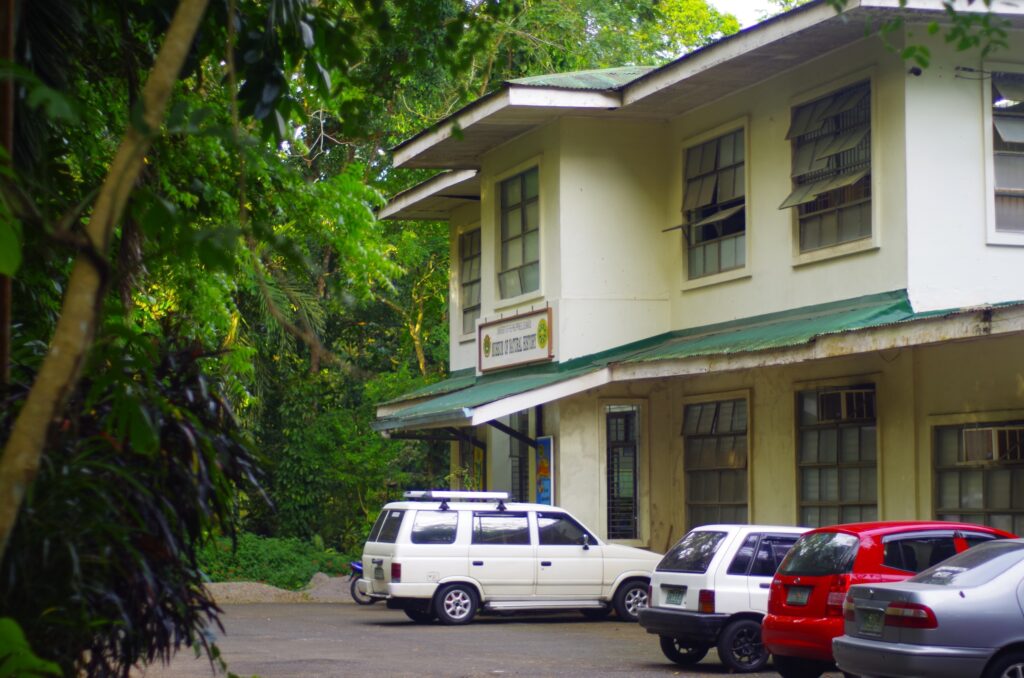 The UPLB Museum of Natural History (UPLB MNH) is a university-wide unit dedicated to exploring, documenting, and preserving the Philippines' biological diversity.
Its primary role is to safely maintain priceless and irreplaceable natural history treasures acquired through university-based research and collaboration.
Indeed, the UPLB MNH performs part of the University's commitment to the advancement of world science while playing an active role in upholding the United Nations Convention on Biological Diversity. 
The museum consists of preserved biological and zoological specimens, wood samples; by-products of microorganisms, and also thousands of living plants/trees maintained in a separate location. This museum also serves as a reference for the science and a center for documentation, research, and information.
It has a diverse collection of more than 250,000 preserved Philippine animals, plants, cultures of living microorganisms, and another biota that showcase the country's rich biodiversity.
It houses most of the priceless collections of birds and small mammals of the late Dr. Dioscoro S. Rabor, considered as the Father of Philippine Wildlife Conservation; and has in its Hortorium, a diverse collection of living plants.
In its main building is an Integrated Biodiversity Exhibit. A multi-media diorama of Philippine flora and fauna and video presentations on biodiversity are special museum highlights. Exhibits feature, among others, the Philippine Eagle and other endemic birds the tamaraw and a number of small mammals such as forest rodents, terrestrial snails from Mt. Makiling, Philippine medicinal plants, various hard and soft-bodied fungi, marine life such as whales and dolphins, and many more.
Albeit meager funds, UPLB MNH continues to lead in biodiversity research activities in the country. It continues to implement its  mandate on preserving and promoting its valuable resources – its hundreds of thousands of holdings of precious biological specimens, preserved records of life forms of the Philippines' natural heritage.
The museum has under its niche banner programs several projects/studies on "Philippine Cave Biodiversity" and "Biodiversity of Small Islands in the Philippines," with some funds coming from income generated from its visitors program, publication sales, provision of microbial cultures and scientific services such as identification of biological specimens.
Other research projects receive funding from the UPLB Basic Research Program, the National Research Council of the Philippines (NRCP), Department of Science and Technology (DOST), Commission on Higher Education (CHED), Philippine Council for Agriculture, Aquatic, Forestry, and Natural Resources Research and Development (PCAARRD), and other government institutions
The museum also have several collaborative endeavors with government and private (NGO and corporate) organizations and academic and research institutions abroad.
OUR INSTITUTIONAL STATEMENTS
A globally recognized repository of natural heritage and a center for research, documentation, information, and extension in biological conservation.
To explore, document, preserve, and curate Philippine natural history; and to generate and share knowledge and understanding to strengthen the protection, conservation, and sustainable use of biodiversity and the environment. 
Pag-ibig at Paligid  is the UPLB Museum of Natural History's 40th Anniversary Celebration Theme Song; written by our Museum Technician Ariel Larona, and UPLB Office for Initiatives in Culture and the Arts staff, Jun Lopez. Video was produced by Florante Cruz, with Michelle Alejado-San Pascual, Khyrss Pantua and Camila Meneses. Shot on location at UPLB Museum of Natural History and UPLB MNH Hortorium.