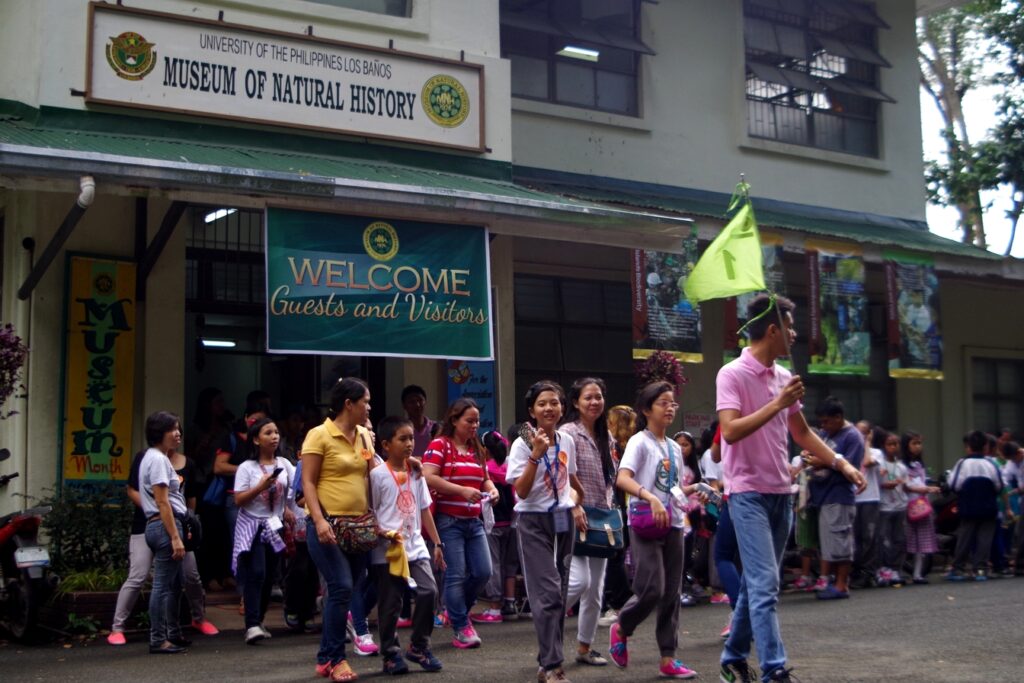 The UPLB Museum of Natural History (MNH) is a university-wide unit established on 30 September 1976 by the University of the Philippines Board of Regents in its 877th meeting to become the center of research on systematics which is popularly known at present as "biodiversity".
As a center of documentation and a repository of Philippine biota, the Museum endeavors to support instruction, research and and various public education activities. It continues to generate basic knowledge in support of development research programs that have an impact on Philippine flora and fauna.
At that time, the creation of the UPLB MNH was viewed as a move to arrest the rapid deterioration of extensive priceless collections of biological specimens–preserved or living–in the University of the Philippines Los Baños which are regarded as permanent assets in the study of natural history, especially during this era of intense global awareness on the conservation of nature and the environment.
The museum houses many priceless specimens, which showcase the exceptionally rich biodiversity of the Philippines. It is a repository of early (pre-war) natural history collections made by UPLB pioneers, such as Dr. Charles Fuller Baker and Dr. Leopoldo B. Uichanco (insects); Dr. Edwin Bingham Copeland, Dr. Michael Price, Dr. Frank Caleb Gates, and Dr. Eduardo A. Quisumbing (plants). The museum also includes specimens that were collected in the late 1800s.
As a university museum, it has in its care other equally important collections of eminent UPLB scientists, taxonomists and systematists, namely Dr. Leonila C. Raros (acari), Dr. Priscilla C. Sanchez (microbes), Dr. Alberto T. Barrion (spiders), Dr. Tricita H. Quimio (fungi), Prof. Juan V. Pancho (vascular plants), Dr. Clare L . Baltazar (insects), Dr. Edwino S. Fernando (palms), Prof. Luisito S. Cuy, Jr. (ectoparasites), Dr. William SM. Gruezo (lichens) and Dr. Salcedo L. Eduardo (parasites). 
The MNH houses nearly a quarter of the world-famous collection of the celebrated wildlife biologist, Dr. Dioscoro S. Rabor, who collected over 60,000 specimens during his life.
Rabor's specimens are deposited in various museums worldwide, including Yale Peabody, Delaware Museum of Natural History, The Smithsonian, The Field Museum, Bernice Bishop Museum, American Museum of Natural History, Mindanao State University-Marawi, and Silliman University.
Our most recent historical accomplishments and activities are recorded and made public through our annual reports accessible and downloadable via the links below:
2015 – 2017 – Three-Year Report
2017 – UPLB Museum of Natural History Annual Report
2016 – UPLB Museum of Natural History Annual Report
2014 – 2016 Three-Year Report
2015 – UPLB Museum of Natural History Annual Report
PLAY OUR INSTITUTIONAL VIDEO
Produced in 2016, this video presents interesting details about the UPLB Museum of Natural History-its main activities, mandates, facilities, collections, and people.
Video was produced by Florante Cruz and shot on location at UPLB Museum of Natural and areas inside the University of the Philippines Los Baños.