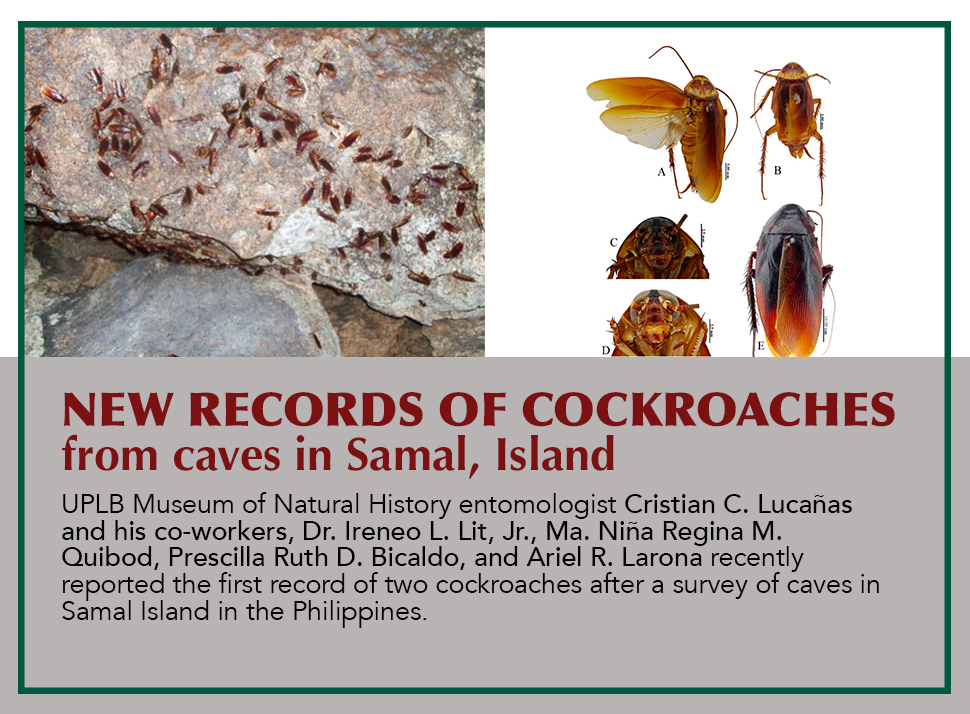 UPLB Museum of Natural History entomologist Cristian C. Lucañas and his colleagues, Dr. Ireneo L. Lit, Jr., Ma. Niña Regina M. Quibod, Prescilla Ruth D. Bicaldo, and Ariel R. Larona recently reported the first record of two cockroaches inside caves of Samal Island in the Philippines.
According to Lucañas, they were able to observe and collect Periplaneta banksi Hanitsch and P. americana (L.) inside two caves in Samal Island, also known as the "Island Garden City of Samal" of Davao del Norte province.
After surveying thirty caves in Samal Island for bat diversity in 2019, two caves— Baga Cave and Manan-ao Cave— were found to be inhabited by cockroaches. Individuals of P. banksi were collected from Baga Cave while P. americana, also called as the common house cockroach, were collected from Manan-ao Cave.
In their recent scientific paper published by The Philippine Entomologist, the authors discussed the taxonomic account of the collected cockroach species.
The cockroach species Periplaneta americana is distinguished from other Periplaneta in the Philippines by its posteriorly recurved cerci in males and (except for P. banksi) by the absence of a setose gland on the first abdominal tergite. It is distributed throughout the Philippines, mainly near past and present human settlements.
The authors noted that this species is very common among households and is the most widely distributed Periplaneta species.
Interestingly, Ariel R. Larona, who collected the specimens, says "that the common household cockroach from Manan-ao Cave were not as pungent as the usual cockroaches of this species which we find in our homes."
Meanwhile, Periplaneta banksi Hanitsch is distinguished from other Philippine Periplaneta by its large size and (except for P. americana) by the absence of a setose gland on the first abdominal tergite. Currently, it is only known to occur in Polillo Island, Quezon in the Philippines, where it has been redescribed by Lucañas and Lit in 2016.
According to the authors, this is the first report of the species in Mindanao and the second report on insular cave systems. Moreover, its presence in Baga Cave supports its classification as a troglophile, an organism that preferably live inside caves, says authors.
The presence and colonization of the common house cockroach in caves have been attributed to effects of human disturbances like uncontrolled entry and bat hunting. Historically, P. americana has been noted to outcompete and cause the extinction of other species. For instance, the authors cited a study which reported the presence of P. americana in several caves in Malaysia and Thailand noting the species to have caused the declining population of Pycnoscelus striatus (Kirby) in Batu Caves, Malaysia.
Having recorded the presence of invasive alien species (IAS) like the Periplaneta americana, the authors noted that the disturbances brought about by human activities affect not only the above ground habitats but are also detrimental to subterranean environments. Furthermore, they emphasize that more studies on the effects of IAS in cave environments should be done in order to provide critical information in that will aid designing mitigation, conservation and management plans for these delicate habitats.