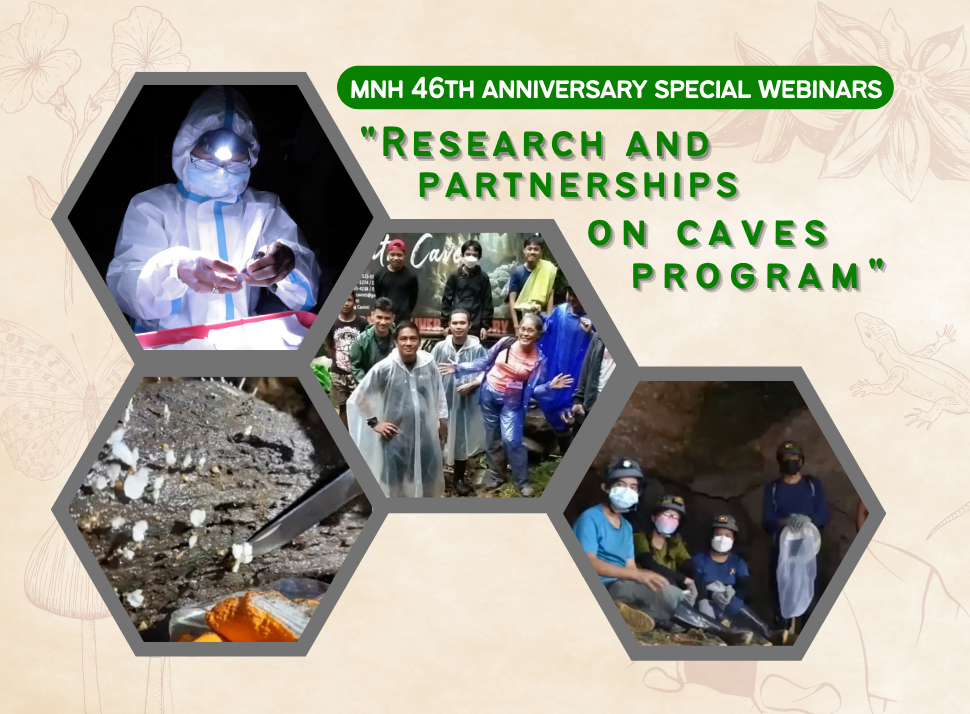 As part of the learning events held to celebrate the UPLB Museum of Natural History's (MNH) 46th founding anniversary, a webinar discussing cave research, biodiversity management, protection, and conservation in CALABARZON entitled "MNH 46th Anniversary Special Webinars: Research and Partnerships on CAVES Program" was held last 29 September 29 2022 from 1 – 4 PM via Zoom.
An ongoing research program of the museum, the NICER Center for Cave Ecosystems Research (CAVES) Program has 4 component projects delving on terrestrial vertebrate and invertebrate assessment of caves and karst areas in CALABARZON; floristic assessment of caves and karst areas in CALABARZON; terrestrial and arthropod diversity assessment in caves and karst areas in CALABARZON; and phenomic, genomic, and metagenomic analysis of microbiome of bat gut and guano from caves in CALABARZON.
The CAVES Program, funded by the Department of Science and Technology (DOST) and implemented under the Niche Centers in the Regions, is a component of DOST's Science for Change program. As a support to the museum's anniversary, DOST Secretary Renato U. Solidum, Jr. gave the opening remarks for the webinar, commending the CAVES Program. "The museum's three-year NICER CAVES Program will indeed contribute to the better understanding of cave biodiversity and conservation management," said Sec. Solidum.
Meanwhile, as chair of the Science for Change Program, Assistant Secretary Dr. Leah J. Buendia of DOST also joined the webinar and gave an inspirational message. In her message, Asec Buendia recognized the museum as DOST's active partner in the Science for Change Program. Moreover, she commended the museum's efforts in forging partnerships and collaborations to seek science-based solutions to current problems of our regions.
"Through partnerships, all the talented, well-equipped scientists, educators, and researchers from different fields can work together to come up with science-based solutions to challenges and problems in our communities and our nation," said Asec Buendia.
Cave research, management, and conservation in CALABARZON
Another important partner of the museum in biodiversity and conservation is the Department of Environment and Natural Resources (DENR). Forester Mailene M. Gecolea-Laviña from the Conservation and Development Division of DENR-CALABARZON gave a talk on caves within the CALABARZON Region wherein she discussed the classification of different caves all over the region.
According to For. Laviña, the DENR has done inventory of more than 80 caves in CALABARZON, assessed 61 caves, and has officially classified a total of 33 caves into class I, class II, and class III caves.
"Cave classification is done to assess and determine the appropriate sustainable use of caves. Through cave classification, we determine the appropriate management strategies for the conservation and utilization of caves and also ensuring these adhere to existing laws, rules, and regulations," says For. Laviña.
NICER CAVES Program in UPLB
Cave ecosystems support different species of plants, animals, and microorganisms which, in many cases, are unable to survive elsewhere. Knowing and understanding the dynamics of these special ecosystems, the caves and karst areas, will contribute to the richness of Philippine biodiversity. In this light, the MNH presented updates on the projects under its NICER CAVES Program:
Project 1. Terrestrial Vertebrates and Invertebrates Assessment of Caves and Karst Areas in CALABARZON
Project 2. Floristic Assessment of Cave and Karst Area in CALABARZON
Project 3. Terrestrial Arthropod Diversity Assessment of Cave and Karst Areas in CALABARZON
Project 4. Phenomic, Genomic, and Metagenomic Analysis of Microbiome of Bat Gut and Guano from Caves in CALABARZON.
Mr. Renz Duco, CAVES Project staff said very little is known about the rich terrestrial diversity of caves. With this, he discussed that Project 1, headed by Mr. Julius A. Parcon, has sought to establish a research base for cave terrestrial vertebrates and invertebrates through faunal biodiversity study. The project hopes that these initiatives will lead to conservation and policy initiatives, he said.
Meanwhile, Project 2, headed by For. Michelle A. San Pascual, conducted floristic assessment of cave and karst areas in CALABARZON, explained Ms. Julienne Ramos, a project research associate. According to Ramos, the project has already explored the geographical distribution, endemism, and conservation status of the various plant species that they have already encountered in the field. These activities, Ramos said, helps define the biodiversity value of an area especially when Karst areas received very little attention in terms of research.
In terms of other life forms, Project 3 has explored terrestrial arthropods in cave and karst areas in CALABARZON, Dr. Ireneo L. Lit, Jr., project leader, explained. "The widely accepted figure of insects or hexapods alone is that they comprise 75% of the animal kingdom," said Dr. Lit as he emphasized the vast areas of research in terms of trends in diversity, cave community and population ecology, and the taxonomy and biogeography of terrestrial arthropods inside caves and in the surrounding karst environment.
As Project 3 is also trying to establish a research center for cave arthropod diversity and conservation in CALABARZON, Dr. Lit explained that the project has already come up with several methods and procedures to maximize field work without compromising quality of data collected. "Most information available are on bats, other vertebrates, and other larger animals; there are very few ecological studies being done on terrestrial arthropods, so we need to be certain that the methods we use are scientifically sound," he added.
Among the methods and paraphernalia that the project has devised and improved on are the pitfall trap, a modified light trap, modified Berlese funnel, and improvements in their opportunistic collection, Dr. Lit enumerated.
Lastly, Project 4 headed by Dr. Marian P. De Leon explained in an audio-visual presentation that "apart from serving as habitat for animals with unique characteristics, caves are also an environment for ubiquitous microorganisms." With this, Project 4 presented their activities on comparing microorganisms found in bats and bat guano collected from selected caves in CALABARZON and isolating microorganisms for potential production of antibiotics, enzymes, and pigments for potential use in the industrial and medical purposes.
Similar to the objectives of other projects in the CAVES Program, Project 4 also aims to establish resource center of cave microorganisms with complete phenomic, genomic, and metagenomic information including operating procedures for the proper conduct of biosafe wildlife biodiversity assessment and other related activities.
Forging partnerships with SUCs for collaborative research and development
Recognizing the importance of the aforementioned research activities in cave conservation, management and protection, as well as its contribution to science-based policy formulation, Dr. Marian P. De Leon emphasized the importance of forging partnerships and collaborations as she discussed the partnerships initiated by the NICER CAVES Program with State Universities and Colleges (SUCs).
Currently, the NICER CAVES Program is finalizing its partnership with Cavite State University, Batangas State University, Laguna State Polytechnic University, and University of Rizal System, "The NICER CAVES Program is committed in training and capacity building and in the near future, we hope our SUC partners will be able to continue the research and management initiatives started by the program," said Dr. De Leon.
To end the program, Emelita P. Bagsit, Regional Director of DOST-CALABARZON gave the closing remarks where she recognized the NICER CAVES Program's initiatives in strengthening the research capabilities of the academic and government line agencies and capacitating HEIs in our regions to improve research and development (R&D) in the region.
"It is essential that we recognize that through participation with various R&D activities, we will be able to equip ourselves with the necessary knowledge and skills needed in this environment," said Bagsit.