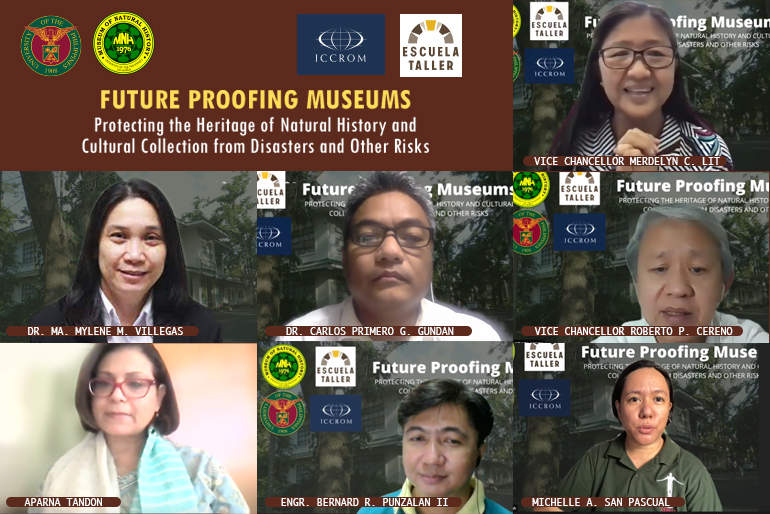 Five more representatives from disaster risk reduction management-related organizations delivered separate talks during the afternoon session of the UPLB Museum of Natural History's webinar "Future-proofing Museums: Protecting the Heritage of Natural History and Cultural Collection from Disasters and Other Risks"
The webinar, held on 30 July 2021 via online video conference was co-sponsored by the International Centre for the Study of the Preservation and Restoration of Cultural Property and the Escuela Taller de Filipinas Foundation, Inc. It emphasized the importance of disaster risk reduction and management (DRRM) among museums in the Philippines in observance of the National Disaster Resilience Month.
The first speaker, Dr. Ma. Mylene M. Villegas, Chief of the DOST-PHIVOLCS Geologic Disaster Awareness and Preparedness Division was able to present "Disaster Resiliency through Understanding Geologic Hazards" through a video recording.
In her talk, Dr. Villegas said that the Philippines is ripe with geologic events like earthquakes and volcanic eruptions which cause destructive effects and large-scale impacts. Despite these, Villegas said that agencies should still be able to effectively and efficiently operate core services with minimal and acceptable disruptions, especially during emergencies and disasters.
According to her, agencies of the government are mandated to determine hazards and risks, monitor and forecast disasters, warn and disseminate information and respond timely and properly. "It is in this context that our main concern will be the protection of the museums through government intervention and services," she said.
Dr. Villegas also emphasized the need to do "disaster imagination" – which is essentially scenario-based planning. "Since we already know our earthquake generators and earthquake histories, we should at least be able to determine earthquake-related hazards and with the available tools, easily assess risks, inspect damage scenarios and provide information to prepare museums or to mitigate the effects, or in the case of post-disaster, proceed to response and recovery," she explained.
Dr. Carlos Primero G. Gundran, Head of the UP Manila DRRM, presented his agency's DRRM plan in relation to the natural and cultural heritage museums. He highlighted the incident command system that UP Manila has instituted.
According to Gundran, UP Manila's ICS will maintain control and rapidly organize the many departments and groups in the university during critical situations.
"The ICS is the on-scene disaster response and management mechanism which will provide the unified chain of command to exercise order among chaos," Dr. Gundran said. With the ICS, there is clear line and staff responsibilities among players and there is direct jurisdiction over the command, control, communication, and coordination systems.
In ending his presentation, Dr. Gundran said that museums are unique hence there should be universality in the preparation of the planning process for disaster risk reduction.
From the local side, For. Roberto P. Cereno, Vice Chancellor for Community Affairs, presented the UPLB'S DRRM initiatives.
"DRRM in our campus is currently evolving. It was officially recognized as part of university operations when the UPLB Disaster Response Group was organized in 2002," Cereno recalled. "But this year, and hopefully, in a matter of a few months, the UP Board of Regents will be approving the establishment of the UPLB Safety and Security Office which will have a crisis and emergency response unit.
According to Cereno, the university has a new crisis management committee with sub-committees which even include student/staff welfare and mental health as components and his group is gearing up its initiatives in DRRM. "We already have drafts for the campus succession plan, crisis management plan, and a public service continuity plan," he shared.
The university is also getting on track on projects considering that there is a pandemic. "Of course, we still need to invest in more equipment; but we are fortunate enough to have already procured some PPE, lifting and boom trucks, firetrucks, emergency vehicles and scheduled upcoming training events as well," he reported.
Ms. Aparna Tandon, Senior Program Leader of the International Centre for the Study of Preservation and Restoration of Cultural Property shared the organization's DDRM initiatives and related programs.
"Cultural heritage is also a victim of crisis and disaster, and that is why ICCROM's thrusts revolve on how we can protect cultural heritage from climate change-induced disasters and conflict," Tandon explained.
"At ICCROM, we have several programs and initiatives to strengthen cultural worker's capability to implement programs for prevention of disaster, respond to it and pursue recovery and become more resilient," she added. According to her, ICCROM has already trained more than 800 change agents called cultural first aiders in 86 countries.
ICCROM is also concerned with studying the intertwined relationships between communities, heritage and climate resilience. "That is why we have programs on safeguarding heritage with civil protection, because most of the time, after search and rescue operations, that is when maximum damage to cultural heritage is committed," she said.
According to her, that is where cultural aides should be able to help civil authorities in safeguarding heritage during disaster situations. "We encourage disaster responders to provide information to our cultural heritage workers during the crisis as well," she emphasized.
Finally, the last speaker, Engr. Bernard R. Punzalan II, Weather Specialist at DOST-PAGASA gave a talk on "Understanding Hydrometeorological Hazards and Weather-proofing our Offices"
Punzalan discussed the various weather systems that affect the Philippines. "We have monsoons, frontal systems, the Intertropical Convergence Zone, tropical cyclones and the La Niña and El Nino," he enumerated. "That is why our country is always among the top countries most at risk to natural hazards," he added.
He then proceeded to talk about the REDAS-SWIFT software which can be shared to local government units and other agencies as a tool for emergency preparedness, contingency planning and for mainstreaming disaster risk reduction into the local development planning process.
The REDAS or Rapid Earthquake Damage Assessment System is a software developed by PHIVOLCS to simulate earthquake hazards. The software can also compute earthquake impacts in terms of physical damage, casualties and economic loss and incorporates multi-hazard maps including hydrometeorological hazards such as floods, storm surge and rain-induced landslides.
"There is an impact assessment module, namely built-in in REDAS called SWIFT or Severe Wind Impact Forecasting Tool which can be used to estimate impact by severe wind hazard," he said.
REDAS, according to Punzalan, now has additional modules which can estimate tsunami impacts and agricultural damages due to severe wind and flood hazards as well.
After the talks, a quick open forum was moderated by Michelle San Pascual, researcher of the Museum's Botanical Herbarium.
The whole-day webinar was closed by Dr. Merdelyn C. Lit, Vice Chancellor for Research and Extension of UPLB. In her parting message, Dr. Lit congratulated the Museum and the speakers for the very enlightening presentations which altogether painted the very real need for museums such as the MNH to have its own modern building.
"When the museum was established roughly 45 years ago, the collections were in separate buildings and locations, even until now," Dr. Lit said. "And when the unit finally had its own home at the upper campus, they managed to occupy an old, physically worn-out building," she added.
According to Lit, the webinar had been an opportune time to make the administration realize the immediate need for the university's collections to be housed under one roof with modern, disaster-proofed facilities.
"This is why we have to continually remind ourselves that in cultural heritage preservation, we give importance to effective communication, collaborations and partnerships," Dr. Lit ended.