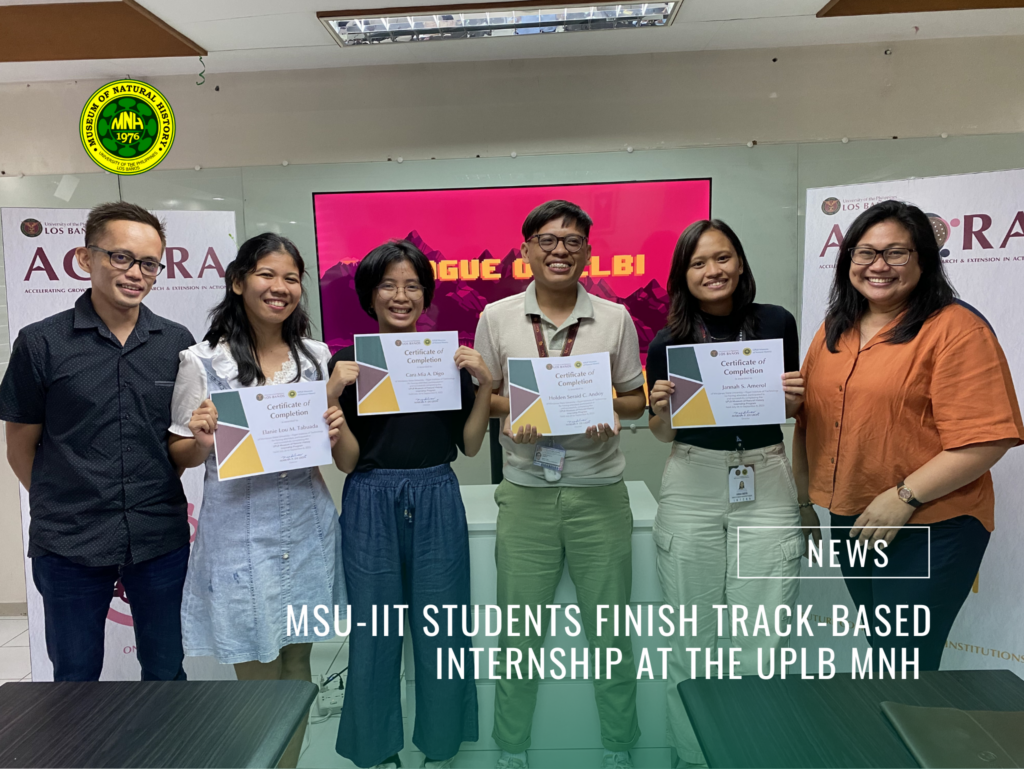 After spending almost a month working at the UPLB Museum of Natural History, four BS Biology students from Mindanao State University – Iligan Institute of Technology– Jannah Amerol, Holden Seraid Andoy, Cara Mia Digo, and Elanie Lou Tabuada– completed the museum's internship program last 8 September 2023.
In a simple exit presentation held at the OVCRE Annex Building, the students were awarded with their respective certificates of completion by museum director Dr. Marian P. De Leon in the presence of MSU-IIT's representative, Assistant Professor Muhmin Michael E. Manting.
After their internship, the students shared that their experiences during the internship influenced their future academic and career plans.
According to Jannah Amerol, "the program allowed me to hone my skills in the laboratory and also gave me the opportunity to learn new techniques that will be useful in the future. The supervisors and staff were friendly and accommodating which created a suitable and comfortable environment for interns to learn and improve."
For Elanie Tabuada, the internship solidified her passion for botany and mycology, and influenced her decision to pursue a Master's degree in Biology later on. "I am grateful for the experiences and knowledge gained during this internship, and I am confident that it has prepared me for future endeavors in the fields of botany," she said.
Finally, Holden Seraid Andoy said that "the whole OJT broadened my mind on what specialization I should pursue. The exposure gave me some insights about the campus, its experts, and many more which I will surely rely on as I am planning to apply at UPLB for my masteral degree."
The internship program for MSU-IIT, held from July 26 to September 8, 2023, implemented work-cum-learning tracks appropriate to help them focus on their chosen field of specialization at MSU-IIT. Amerol worked with the Microbial Culture Collection, Andoy served at the Zoological and Wildlife Collection, while Digo and Tabuada joined the Botanical Herbarium and briefly, the Mycological Herbarium.