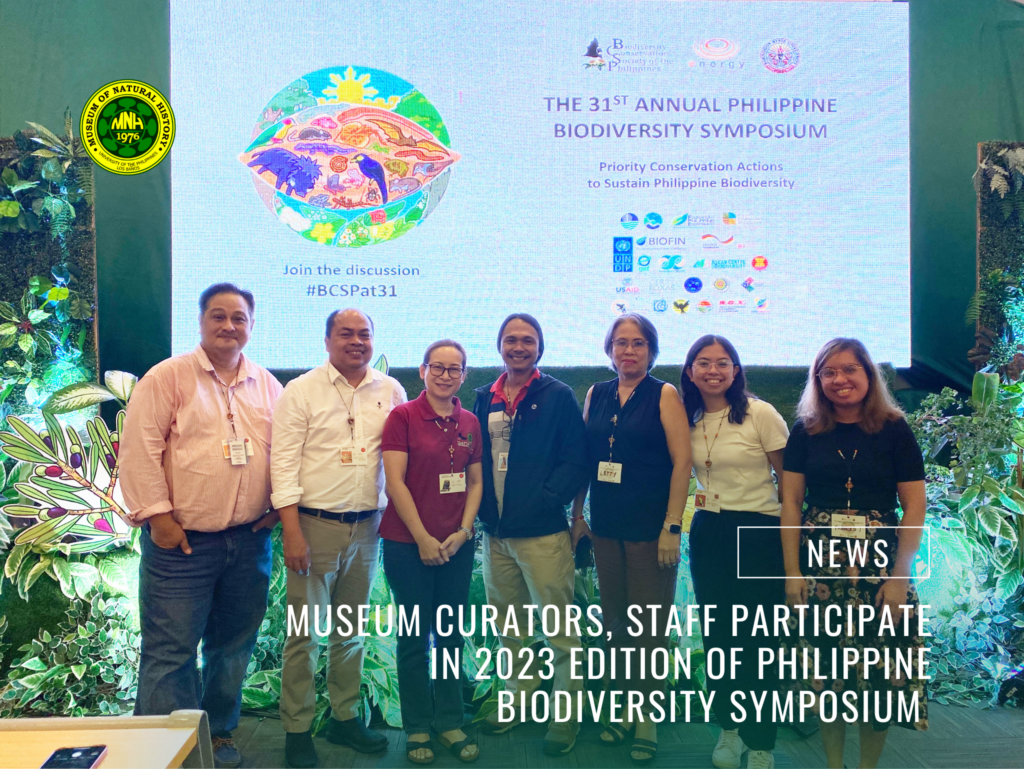 Several curators and staff from the UPLB Museum of Natural History once again joined more than three hundred other biodiversity advocates, conservationists, and students from all over the Philippines, this time converging in Sorsogon City, during the 31st Annual Philippine Biodiversity Symposium (APBS) held 22-25 August 2023.
The museum's personnel have been active in sharing its research results and other knowledge ever since the Biodiversity Conservation Society of the Philippines (BCSP), the main organizer of the APBS, was formed in the early 1990s.
With the theme "Priority Conservation Actions to Sustain Philippine Biodiversity," this year's symposium was organized by the BCSP, in partnership with the Energy Development Corporation and the Sorsogon State University.
For this year's event, museum curators served as speakers in plenary sessions during the symposium. Dr. Leticia E. Afuang, MNH curator for herpetofauna, delivered a plenary talk on sectoral perspectives in Philippine biodiversity conservation.
On the other hand, Dr. Pastor L. Malabrigo, Jr., curator for trees, and Dr. Juan Carlos T. Gonzalez, curator for birds, served as speakers in the second plenary session which discussed contemporary strategies in Philippine biodiversity conservation.
Also, Dr. Anna Pauline O. De Guia, curator for mammals, co-presented an oral paper "On the aftermath of Super Typhoon Odette: Impact on the Del Carmen Mangrove Forest," which was a result of a DOST-NRCP-funded research.
Finally, University Researcher Julius A. Parcon presented a technical poster on "Diversity of land snails in the karst ecosystems of Cavinti Underground River and Cave Complex (CURCC), Cavinti, Laguna, Philippines," an output of his current research funded by the MNH's DOST NICER CAVES Program.