Julianne Afable and Florante Cruz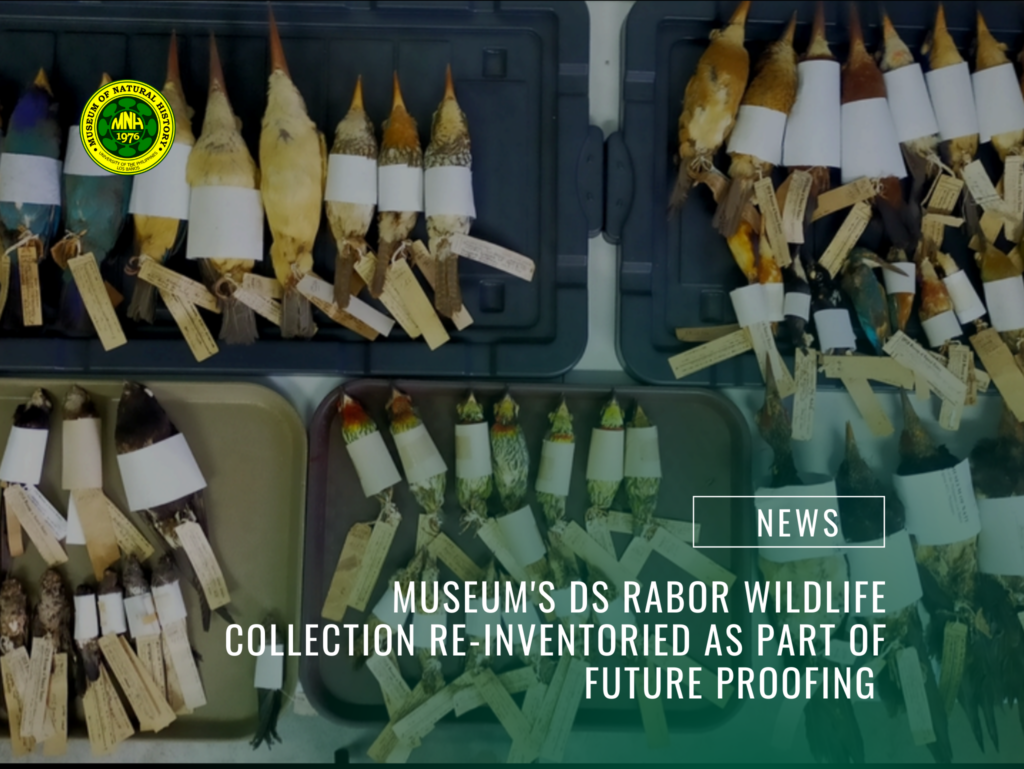 The UPLB Museum of Natural History organization is happy to report that after almost two years, the re-inventory and physical maintenance of its DS Rabor Wildlife Collection is now 100% completed.
During a simple presentation last 14 August 2023, MNH's Senior Museum Specialist Jan Dexter Lumibao and Department of Science and Technology (DOST) Career Incentive Program (CIP) fellow, Frances Mae B. Tenorio, informed museum curators and staff that they have been able to check and clean 10,316 skin specimens of 233 species of birds which have been collected by the renowned field biologist and conservation advocate, Dr. Dioscoro S. Rabor.
Aside from this, they were able to see and clean 4,303 individuals of various mammals. Lumibao and Tenorio also reviewed and updated the collections digital database and re-organized the specimens in their trays and cabinets.
Museum curators Dr. Anna Pauline O. De Guia and Dr. Leticia E. Afuang and MNH staff from the Zoological and Wildlife Collection, university researcher Julius Parcon and museum technician Edison Cosico attended the presentation.
The MNH houses the largest collection of bird and mammal specimens obtained by Dr. Rabor during his lifetime. It is an invaluable resource for students and researchers, hence, the museum put an emphasis to ensure that the specimens are properly preserved and maintained by means of more efficient museum information and object management.
DS Rabor Collection, a heritage collection getting more public interest
With the museum's exhibit building currently closed to the public, more students and research groups have been visiting MNH's collection rooms for research and viewing of specimens. The DS Rabor Wildlife Collection room, which is now sporting a much organized and more cared for ambience is no exemption.
Just recently in June 2023, foreign students from Cornell University and North Carolina State University visited the UPLB campus and came to see the bird and mammal collections of the UPLB MNH. The collections room and its staff have also hosted several students from UPLB and other universities who did their academic and internship activities using the collections.
The DS Rabor Memorial Wildlife Collection has also been featured in Tuklas UPLB, a segment in Radyo DZLB's Galing UPLB program which runs every Friday afternoon. Tuklas UPLB features research and extension outputs and activities in UPLB.
Way forward in maintaining and preserving the collection
After Lumibao and Tenorio's report on their work at the DS Rabor Memorial Wildlife Collection, MNH curators and staff discussed on various possible ways to ensure the maintenance of the collection for years to come. Admittedly, there have been challenges encountered during the re-inventory and one of these is the vulnerability of the specimens to degradation over time.
"We acknowledge that physical threats to the specimens can compromise their integrity and preservation in the long run, so our steps forward should be towards maintaining the physical condition of these specimens," said Lumibao.
According to Lumibao, some unavoidable threats such as minor pest infestations and inadequate storage conditions can lead to deterioration of these specimens.
Given the findings and observations during the re-inventory, MNH staff and curators have forwarded several suggestions for the maintenance of these valuable specimens, e.g. enhancement of the collections room and storage equipment at the IBS Building, and the safekeeping of physical records and digital database management.
Part of UPLB's future-proofing initiatives
The re-inventory and maintenance of the DS Rabor Wildlife Collection would not be a success without the support of UPLB's Chancellor, Dr. Jose V. Camacho, Jr. who funded the museum's future-proofing initiative.
"We are very fortunate to have a university leader who understands the value of university museums and their collections, such as the UPLB Museum of Natural History," Dr. Marian P. De Leon, museum director shared in a personal communication.
"Without the financial support given to us, which enabled us to hire additional staff, we may have not been able to fast track our digitization and digitalization which we commenced in 2020," De Leon intimated.
Lumibao is now working on the inventory of the museum's macrofungi collections, also known as the Gerardo O. Ocfemia Mycological Herbarium. Dr. Ocfemia served as the Chairman of the then College of Agriculture Department of Plant Pathology from 1933 to 1955 and is recognized as the "Father of Plant Pathology" in the Philippines.