Julianne Afable and Florante Cruz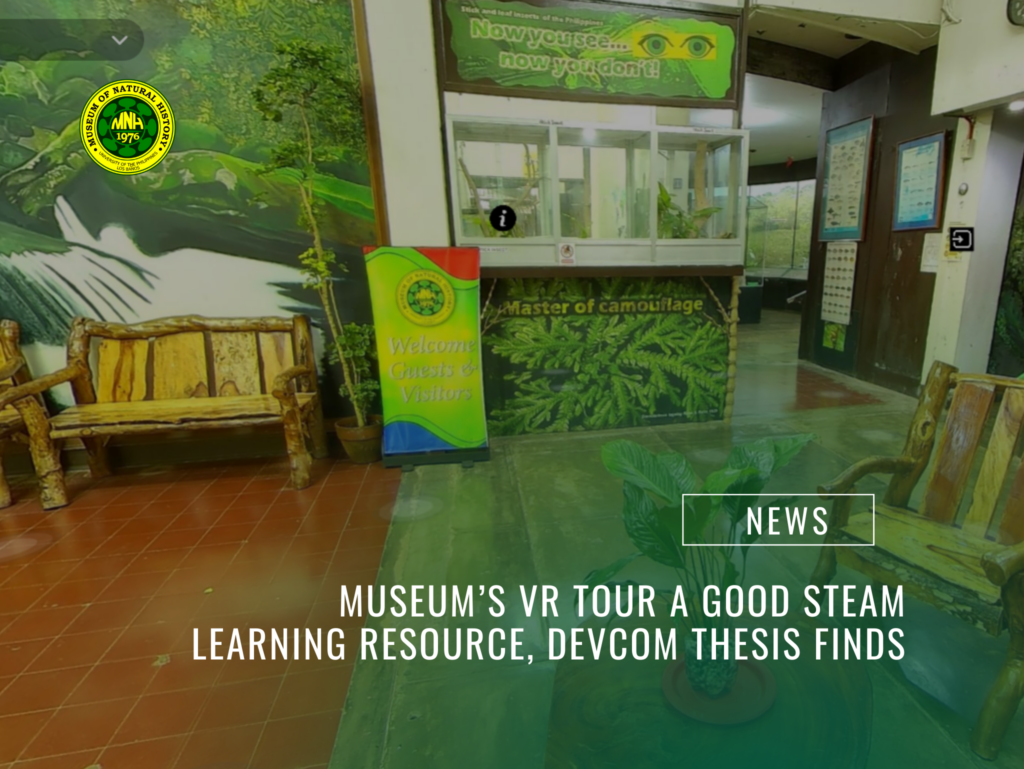 Digital and innovative concepts, integrated management tools, communication strategies, and increased audience engagement have been transforming the way people consume information today.
As bastion of knowledge, the UPLB Museum of Natural History is riding this transformative wave so that it will continue fostering curiosity, creativity, and appreciation of the natural world by the new generation of natively digital learners, as it presents scientific information to the general public.
So, in the wake of the COVID-19 pandemic in 2020 which shuttered public spaces and restricted people's mobility, the museum stepped up its future-proofing efforts and launched a 360° Virtual Reality Tour (VRT) in 2021, alongside continuous work to improve its website and social media campaigns and platforms.
And to ensure that its VRT is responsive to user's needs, the museum recently partnered with the UPLB's College of Development Communication (CDC), by way of a student's thesis, to evaluate the potential of the digital platform for biodiversity education.
According to a thesis research by Zsarla Angeli Peñaflor, a new graduate of BS Development Communication, the UPLB Museum of Natural History's 360° VRT was found to be an acceptable digital learning resource by students.
Peñaflor, for her undergraduate study, looked into the potential of the MNH's VRT as a learning resource for Grade 12 Science, Technology, Engineering, Agriculture, and Mathematics (STEAM) students, specifically from the UP Rural High School (UPRHS). Overall, her survey respondents positively saw the great potential of MNH's VRT.
She found that majority (79%) of the students believed that the MNH VRT will be an effective digital learning resource in a classroom setting. The respondents indicated that the VRT was cost-effective, interactive, enjoyable, and convenient and easy to use. The respondents also believed that the VRT is able to provide more access to information, thus raising more awareness about biodiversity.
In her research, Peñaflor also explored the relationship of students' behavioral intentions (BI) to use the VRT as a digital learning resource and factors such as socio-demographic characteristics, performance expectancy, effort expectancy, social influence, and facilitating conditions. After analyzing survey data, she was able to reveal eight variables significantly associated with students' behavioral intention to use the MNH 360 VRT as a digital learning resource. These variables will be important considerations in planning and implementing natural history-focused museum virtual reality tours.
Based on the qualitative responses of the UPRHS Grade 12 STEAM students, Peñaflor was able to determine several advantages and disadvantages of MNH's 360° VRT. Examples of challenges identified were student's varying levels of technological literacy and capability, internet and gadget availability, need for training for usage in education, motion sickness and navigation, and discouragement of on-site museum experience.
Guided by her thesis adviser, Assistant Professor John Mervin Embate at the CDC's Department of Education Communication, Peñaflor concluded that the museum should resolve several gaps and development issues found in the VRT so that its applicability as an educational resource is fully realized.
With the study's findings as a potential roadmap for the development of MNH's virtual museum and improvement of its services as a whole, Peñaflor highlighted the importance of incorporating user feedback for a smoother and more user-tailored VRT experience in order to maximize student engagement in this scientific learning endeavor.
According to her, using both physical and digital aspects of the museum make information more accessible. Moreover, her study suggested intensifying the promotion of museum's VRT in social media and other platforms to reach a wider audience. Recognizing the potential of virtual engagement, the researcher also recommended maintaining the VRT even until the museum opens its physical building, which is currently closed to the public due to renovations.
For other museums in the Philippines, the study also recommends adoption of virtual technologies as part of their science and educational communication efforts. Lastly, the researcher hopes that her study prompts deeper examination of the conditions and challenges faced by museums today especially during and beyond the COVID-19 pandemic.
Have you tried exploring the museum through our 360 Virtual Reality Tour? Visit this link: https://mnh.uplb.edu.ph/mnh-in-vr/ for a transformative science learning experience. Let us know what you think by sharing screenshots of your favorite parts of the tour or your experience through your Facebook accounts. Don't forget to tag the UPLB Museum of Natural History.