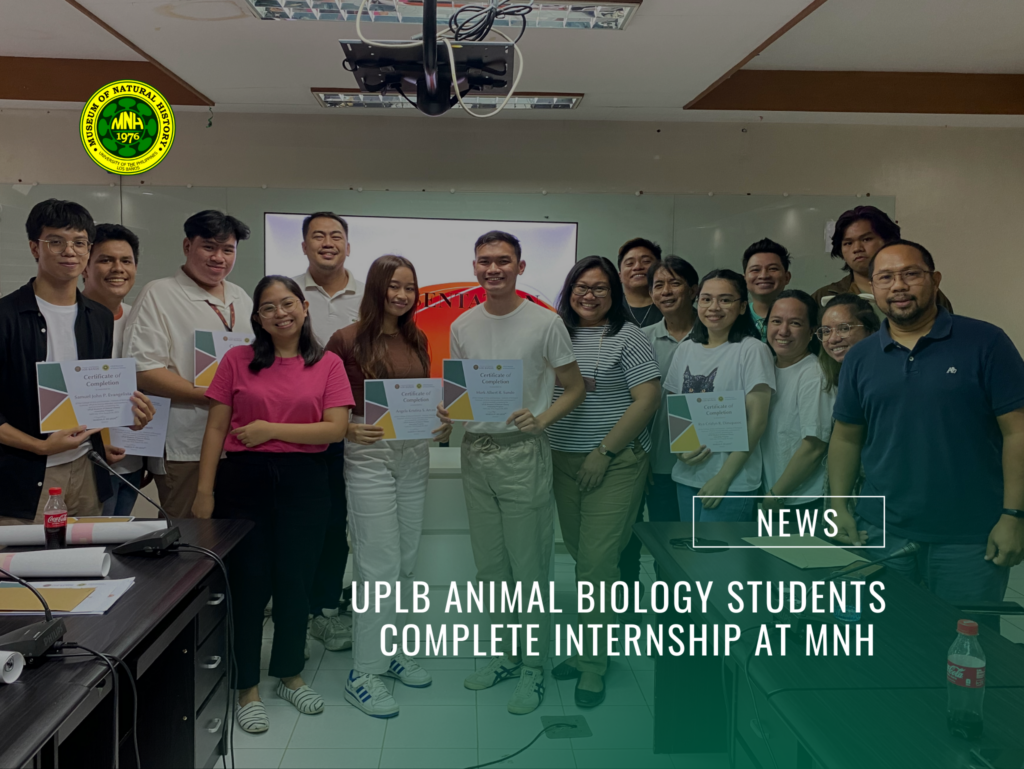 Seven BS Biology students from UPLB's Institute of Biological Sciences recently finished their internship at the UPLB Museum of Natural History to fulfill the requirements of their BIO 198 practicum/internship subject.
After experiencing 150 hours of practical application of principles and concepts on taxonomy, systematics, curatorship, field biology, biodiversity and conservation, third-year students Angela Kristina Arceo, Justin Adrian Belenia, Justin Canson, Rya Crizlyn Dimapasoc, Samuel John Evangelista, Krisanti Amiel Felix, and Mark Albert Sundo were able to receive certificates of completion from their internship supervisors last 3 August 2023.
From 10 July to 2 August 2023, the students were assigned to work on the museum's Zoological and Wildlife Collections; most important of which were those collected by famed Filipino field biologist Dr. Dioscoro S. Rabor. Some of the activities they were able to do were sorting, labelling, accessioning, and cataloging of museum specimens; sorting, imaging, and processing of terrestrial microsnail specimen; 2D and 3D imaging/modelling of museum specimens; and experiencing how to conduct basic field sampling methods such as mist-netting, herping, and bird-watching.
Although the internship only lasted for a month, some of the interns gave positive feedback on their experiences. According to intern Angela Kristina Arceo, the "experience at the UPLB Museum of Natural History has been truly transformative… it has ignited (in me) a passion for museum sciences and natural history preservation, leading me to contemplate a future dedicated to the stewardship and promotion of our natural heritage." Meanwhile, for Mark Albert Sundo, he said that the internship was a good avenue to discover more about activities related to wildlife and zoology which can help him in his thesis.