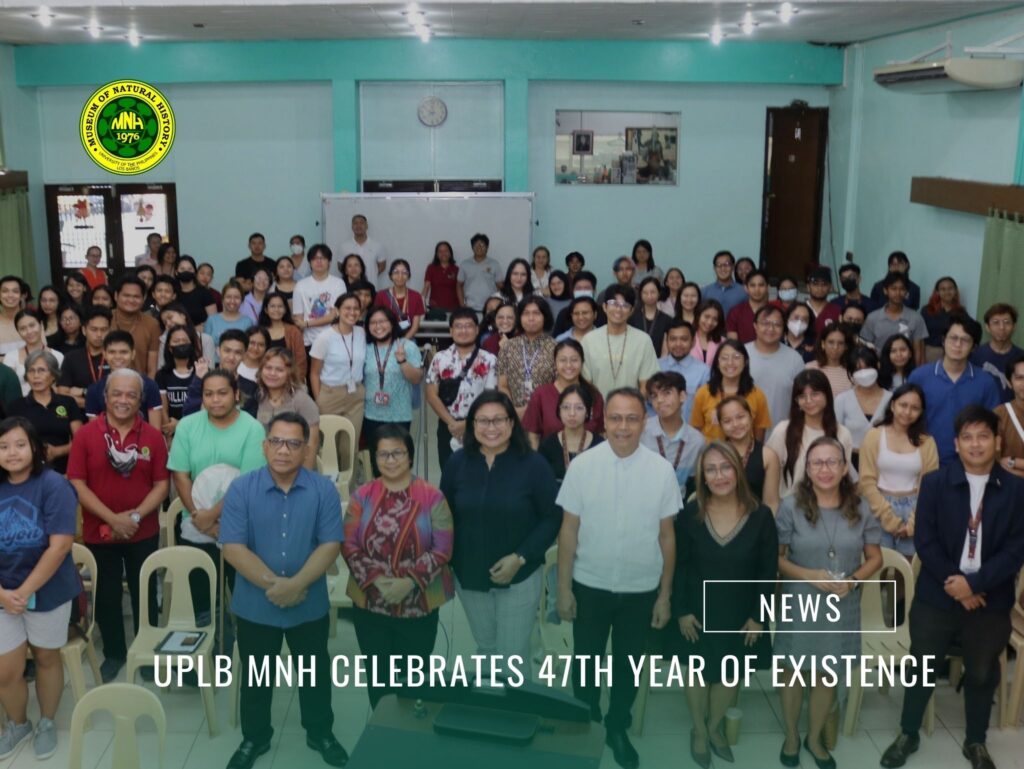 The UPLB Museum of Natural History recently marked its 47th Founding Anniversary with a two-day celebration this 28-29 September 2023. With the theme, "Beyond Museum Walls: Forging Bridges between Nature and Society," the museum reaffirmed its commitment to the preservation of Philippine natural history.
Even though its main building is still currently closed to the public due to renovations of its physical space, the MNH brought back its full face-to-face activities, kicking-off its anniversary celebration with a forum entitled "Voices of Nature" on 28 September 2023 at the CEM-ICOPED Auditorium. UPLB students, student organizations with related advocacies, and interested individuals heard from field biologists, science communicators, and museum experts who gave the audience a glimpse of what they are working on Philippine flora and fauna, highlighting the importance of knowledge generation and sharing for appreciation and conservation of Philippine natural history.
Dr. Carmela P. Española from the Institute of Biology of the UP Diliman College of Science, Dr. Jade Aster T. Badon from the Institute of Biological Sciences of UP Los Baños, and Mr. Adriane B. Tobias from the Department of Forest Biological Sciences of the College of Forestry and Natural Resources talked about their work as field biologists doing expeditions in different areas of the country.
Meanwhile, Assistant Professor Garry Jay S. Montemayor from the Department of Science Communication at the UPLB College of Development Communication and Dr. Analyn Salvador-Amores of UP Baguio talked about science communication and the role of museums in knowledge generation and sharing.
Also, as part of MNH's participation in the Technical Assistance Program under the Museum Management Training (MMT) project of UP Baguio, MNH staff had a consultative meeting with Dr. Amores. MNH's way forward and possible collaborations through the project were discussed during the meeting.
On the second day, 29 September, the MNH had a ceremonial planting of the JC's Vine (Strongylodon juangonzalezii Hadsall, Alejado & Cajano). The JC's Vine is named after UPLB MNH's former director, Dr. Juan Carlos T. Gonzalez and was discovered in 2015 by MNH staff and curators during an expedition in Mulanay, Quezon. Masungi Georeserve Foundation through its trustee, Ms. Billie Dumaliang, also joined the MNH in the planting activity.
To cap off its celebration, MNH had simple gathering at the MNH parking lot in the afternoon of 29 September which coincided with the symbolic turnover of DOST Science Education Institute's (DOST-SEI) Science Explorer Bus to UPLB. Officials from DOST-SEI and UPLB were present for the turnover of the interactive learning facility which will soon be transformed as MNH's Natural History Museum on Wheels.