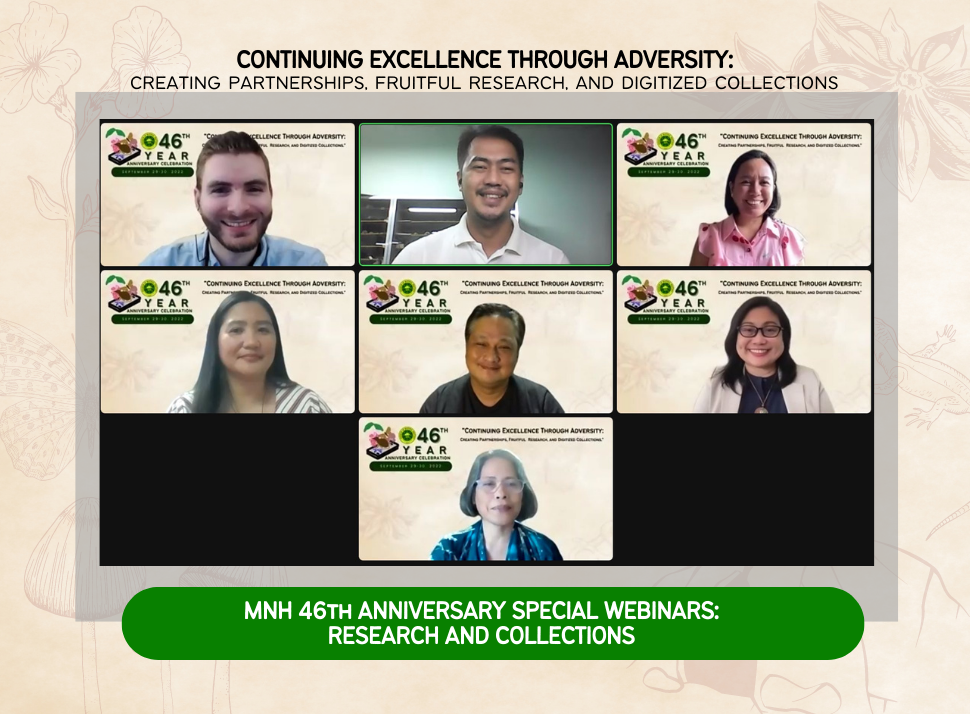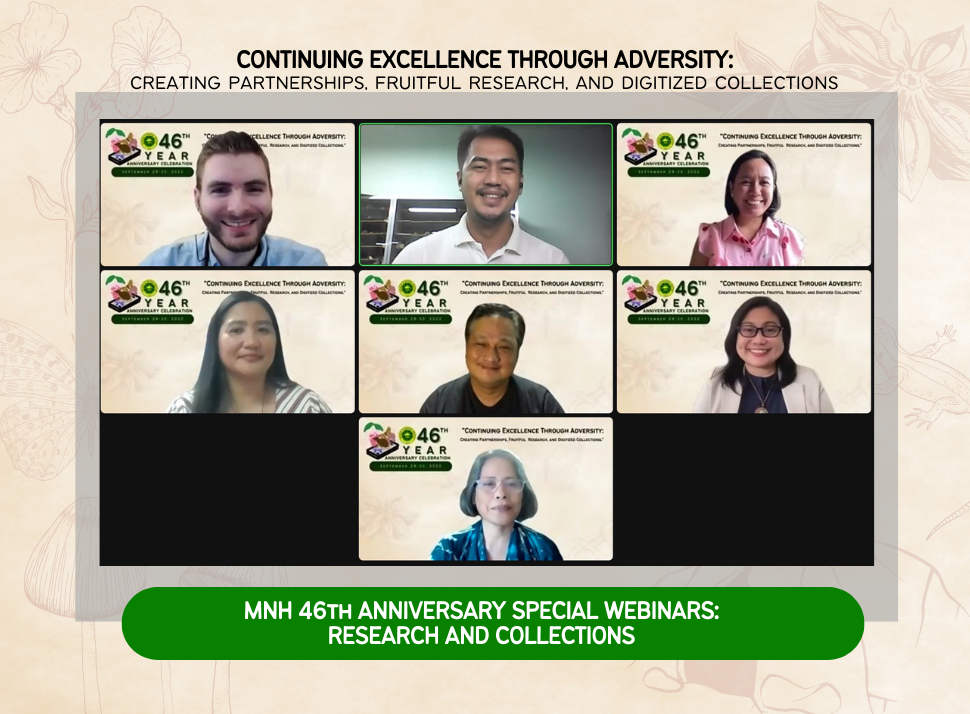 With the theme "Continuing Excellence: Creating Partnerships, Fruitful Research, and Digitized Collections," the UPLB Museum of Natural History (MNH) kicked off its 46th Founding Anniversary with a webinar entitled "MNH 46th Anniversary Special Webinars: Research and Collections" on 29 September 2022 via Zoom.
The Museum's Director, Dr. Marian P. De Leon, formally opened the webinar with an overview of MNH's anniversary celebration. As the anniversary theme revolved around partnerships, research and digitized collections, the museum prepared a line-up of lectures discussing new species discoveries, important museum collections, and academic research and extension engagements with collaborators and partners.
In her opening remarks, Dr. De Leon also emphasized MNH's commitment to its mission and vision, "even when confronted with adversities, the museum stays true to its mission and vision, and continues to stand on solid ground as the repository of the country's flora and fauna," she said.
In recognition of MNH's 46th year, UPLB Chancellor Dr. Jose V. Camacho Jr., gave an inspirational message which put into spotlight the museum's efforts in continuing its mandate despite the difficulties caused by the COVID-19 pandemic.
"The pandemic sorely hit museums and other similar institutions as the health protocols prohibited or limited visitors and travelling for field work. The MNH adapted well, shifting to online delivery services through digitized collections, virtual museum tours, and public webinars," Chancellor Camacho shared.
Baltemys kampalili , a new genus and species of shrew-like mouse from a new center of endemism in eastern Mindanao
As first of three webinars lined up for MNH's 46th anniversary celebration, the research and collections webinar discussed new species discoveries and important museum collections. Experts involved in the discoveries and authorship of new species were present to talk about their work.
Dr. Dakota M. Rowsey, Vertebrate Collections Manager of the Arizona State University Natural History Collection was the first speaker, and he talked about the Baletemys kampalili. He is one of the authors who published the Baletemys kampalili, a new genus and species of shrew-like mouse Mt. Kampalili in Eastern Mindanao, now considered as a new center of endemism in Mindanao.
According to Rowsey, the Baletemys kampalili, when it was collected in Mt. Kampalili, appeared to be a shrew-like mouse with characteristics unusual for many rat-like rodents. It has a long, narrow snout; small eyes and ears; short, dark, dense fur; and a short, hairy tail. It was then eventually found, through a rigorous examinations, to be a member of clade consisting of Tarsomys, Limnomys, and Rattus everetti, all of which are endemic to the Philippines, with most being endemic to Mindanao Island.
In honor of the late Danilo S. Balete and the place where it was collected, the new genus and species was named Baletemys kampalili. This new discovery, said Rowsey, illustrated that there is more to be known about species and morphological diversification of the tribe Rattini within the Philippines. It also provided evidence that Mt. Kampalili represents a previously unrecognized center of mammalian endemism on Mindanao Island.
Lastly, he emphasized the importance of protecting these critical habitats for species such as the Baletemys kampalili which is known only from this single mountain.
Where in the world are the Philippine bird holotypes?
Part of the line-up of experts during the webinar was Dr. Juan Carlos Gonzalez, curator for birds at MNH and Professor at the College of Arts and Sciences (CAS) in UPLB. With birds being one of the most recognizable components of museum collections and many of newly discovered bird taxa coming from historical field expeditions in the Philippines, Dr. Gonzalez presented an overview of the history and distribution of bird holotypes and bird collections from the Philippines.
In his presentation, Dr. Gonzalez summarized the location of important bird types both abroad and in the Philippines. He identified global museum collections like the University of Kansas Biodiversity Institute, Delaware Museum of Natural History, Yale Peabody Museum, and Smithsonian Institution National Museum of Natural History which contain notable Philippine bird specimens. Meanwhile, the Philippine National Museum of Natural History, UPLB MNH, Mindanao State University Aga Khan Museum, Siliman University, and the University of Sto. Tomas were identified to be Philippine museums with substantial bird collections.
Dr. Gonzalez also talked about the significant use of the D.S. Rabor bird collection, with over 10,000 taxidermied specimens of bird species from Dr. Dioscoro S. Rabor's expeditions, at the UPLB MNH in studies like comparison of subspecies and island populations.
New plant novelties discovered by the PTI
As partners in the advocacy for conservation of Philippine biodiversity, the Philippine Taxonomic Initiative, Inc. (PTI) a non-government organization comprised of volunteer members and collaborators who are committed to describing and publishing numerous plant novelties across different taxa in the Philippines, joined in MNH's special webinars and presented new plant novelties discovered by the PTI.
Among these new plant novelties were Melastoma malabituin, Amorphophallus minimus, Dendrochilum ignisflorum, Ardisia kalimbahin, Amorphallus caudatus, Begonia naemma, Begonia canabillasii, Medinilla ultramaficola, Begonia beijnenii, Vaccinium exiguum, Begonia truncatifolia, Begonia obscurbracteata, Medinilla simplicymosa, Begonia tandikan, Ridsdalea philippinensis, and Begonia marakuruyot.
Representing PTI in the webinar, Mr. John Charles Altomonte, PTI Director for Externals, emphasized the importance of taxonomic research in the Philippines for the conservation and protection of habitats.
New species for Philippine biodiversity, Metapocyrtus species and new Pomasia species
Dr. Sheryl Yap, MNH curator for weevils and hoppers presented a less-studied group of insects in the Mindanao islands, the genus Metapocyrtus. The Metapocyrtus species are long-snout beetles from the tribe Pachyrhynchini. Recent surveys of several mountains in Mindanao revealed new species of weevils which gave new information about their host plants and habitat especially in Mindanao, where remote mountain and forest ecosystems remain to be under-explored to this day.
Meanwhile, Dr. Aimee Lynn Barrion-Dupo, MNH curator for geometrid moths and spiders presented the new geometrid moth species Pomasia concepcioni which she and Claude Tautel recently described and named after UP President Atty. Danilo L. Concepcion. According to Dr. Dupo, the existence of the genus Pomasia had been unknown in the Philippines prior this discovery.
To end the series of lectures on new species discoveries and museum collections, Dr. Nathaniel C. Bantayan, Vice Chancellor for Research and Extension in UPLB delivered the closing remarks. Dr. Bantayan commended MNH's research, partnerships, and museum digitization efforts. He also acknowledged these as "new take-offs for next big step in pursuit of instruction, research, extension, and public service for Philippine biodiversity," he said.