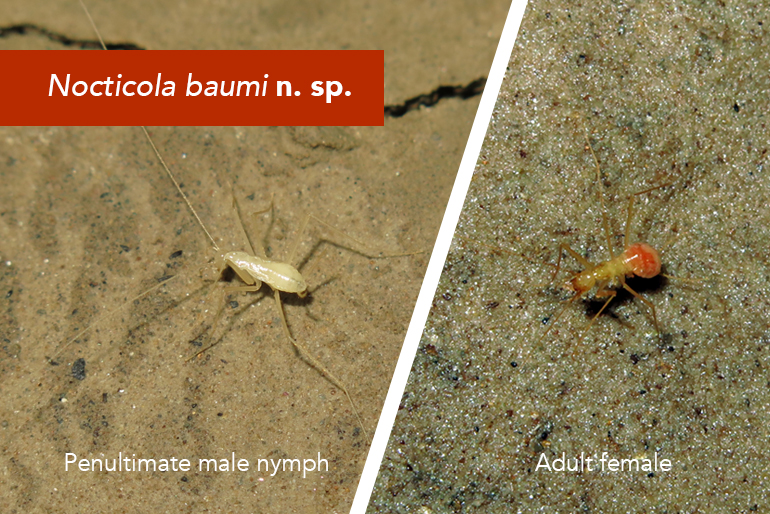 A new species of highly troglobitic cockroach, this time from a limestone cave in Papua Province, Indonesia, has been described by MNH's junior entomologist Cristian C. Lucañas and his co-researchers from the Czech Republic and Indonesia. Through an article published by the journal Zootaxa (https://doi.org/10.11646/zootaxa.5082.3.7) last 17 December 2021, the team introduced Nocticola baumi n. sp., as the first Nocticola cockroach reported from the area.
According to the research team, the individuals of N. baumi n. sp. were collected from Hagepma cave in New Guinea Highlands, Jayawijaya Regency, Papua Province. "They were found in small groups, crawling swiftly on the walls and banks of the cave," Lucañas reported. N. baumi is the first cave-dwelling cockroach from New Guinea island, and joins some carabid and diving beetles as the only troglobitic insects discovered so far there.
Interestingly, Hagepma cave was formed by the subterranean Yumugima river, where the first cave crayfish from Papua province, Cherax acherontis, was discovered in 2017. Because there are no bats present in the cave and guano is absent, the team surmised that N. baumi may possibly feed on microbial biofilms on the silt-clay banks of the cave. "Guano is not the sole energy source of organisms such as cockroaches, as there have been studies already which found that some cockroaches can thrive by consuming microorganisms, and even earth and soil-like substances," Lucañas explained.
N. baumi, as per the team's publication, "differs from other known Nocticola spp. by the combination of the following characters: compound eyes and ocelli absent, tegmina fully developed extending beyond the abdomen, hind wings absent, legs extremely long." It was named after Dr. Jiří Baum, a Czech zoologist who became the director of the zoological department of the National Museum in Prague. Aside from pursuing science, he was an explorer and writer, and later, a resistance fighter executed by Nazis near the end of WW II.